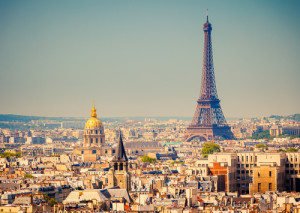 If you want to get away this Valentine's Day, these Cupid-struck destinations are perfect for forming hearts in any couple's eyes.  Besides the majestic views and relaxing excursions, there's a special aura about each one of these places that'll have you and your beloved dreaming of staying.
Bali
One of Indonesia's most romantic islands, Bali is a renowned locale that screams passion on practically every stretch of sand. You can watch the sunset with your love and admire the small rock formations that correlate to the wondrous temples of the land. With century-old influences, Bali has a myriad of escapes, inclusive of its far-stretched cascades to be hiked without regret.
Napa Valley
California's wide and diverse landscape holds a gem that without falter became home to among the world's richest and most sought-after vineyards. With over 400 wineries, you and your partner can enjoy acres of fresh greenery as you take wine tours and try wines made with the cultivation of numerous grape types. What can be more romantic than enjoying a wine and cheese soiree as you gaze at the stars?
Paris
Long known as the most romantic city in France—in the world, at that—Paris really is the city of love. Live your fairytale and fall head over heels for the apple of your eye as you indulge in a candle-lit dinner and stroll by the Siene River. Then, watch the Eiffel Tower illuminate. Take a look at the world's most prominent romantic artists in the Louvre Museum, and do some reminiscing with precious views from historic monuments.
Maui
A popular honeymoon destination, Hawaii's land gives off the sensation of paradise.  Maui, in particular, offers the best of both a relaxing yet lively world. With quiet villages and expert hula dancers, Maui's beautiful coast is situated right by the Big Island. It's also right by the dormant Haleakala, known as the world's largest inactive volcano.
Greek Isles 
Also known as the Cyclades, Greece's iridescent islands make for an unforgettable escape. You can enjoy life under the sun by gleaming blue waters and munch on delectable delights. Adorned with stone cliffs and a unique architecture, the lush valleys and dramatic hikes over the sandy seashores can satisfy any adventurous (and not so adventurous) spirit.
Share this item with friends