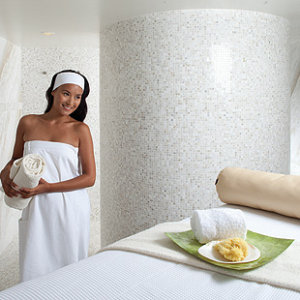 Top 8 Amenities and Accessories for Your Luxury Spa
Everyone knows that spas are the go-to place for massages and facials. But, what other treatments can spas offer to help deliver the ultimate in relaxation to guests? And, what other ways can your spa stand out from the crowd? Bring your spa to the next level with the following tips from Boca Terry:
1. Bathrobes
The first thing your visitors will want to see when they enter your spa is a soft, luxurious bathrobe. Let them slip into this comfortable attire as they prepare to be pampered at your spa. Here are some of our favorite robes for your spa:
Microfiber with Plush Lining: You can already tell that this robe is out of this world—it is even in the name! The Microfiber Bathrobe is comfortable, plush, soothing, and a necessity for every luxury spa.
Hooded Bathrobe: If your guests are suffering from a cold winter, you will want to make sure they are warm. Best of all, the hood on this bathrobe will help to dry their hair before they head back out into the elements.
Waffle Bathrobe: Perfect for an outdoor spa in a tropical climate, or great during the high heat of the summer, our Waffle bathrobe is a must have.
2. Spa Wraps
Although bathrobes are what most guests will expect to be greeted with, offering a spa wrap as an option is always a pleasant surprise. Boca Terry offers spa wraps for both men and women in various sizes. Plus, they are easily adjustable to ensure that the wearer feels comfortable and secure. Best of all, our spa wraps come available in multiple patterns. Pick the one (or two) that you feel best represent your spa's decoration and theme.
3. Hot Tub
What is a luxury spa without a soothing hot tub? Not only would your visitors enjoy one, but they also most likely expect that your spa offers a hot tub. Make sure to meet your clients' expectations by investing in a top-of-the-line hot tub for them to pass the time before or after enjoying your other services. Ensure your guests' time in the tub is followed up with a plush absorbent, luxury towel!
4. Facials
Another expectation your guests will have is that your luxury spa offers facials—but not just any facial that they can get at other shops. Rather, the sophisticated clients from your luxury spa have their expectations set high. Offer a facial that is synonymous with class, beauty, and excellence. Here are a few of our favorites:
Indian Clay Mask: Draws out toxins and impurities from the skin, naturally.
Natural Brown Sugar Scrub: Exfoliates and smoothens the delicate facial skin.
Moisturizing Avocado Oil Mask: Locks in the moisture and softens the skin, enhancing vibrancy.
5. Sauna and Steam Room
Yes, your guests want a sauna or steam room—or both! They are expecting to be pampered to the fullest, so be sure to provide this amenity during their visit. This will offer them deep relaxation, mentally and physically. The heat in the room loosens their tight, achy muscles, while the warmth allows them to relax, letting their mind wander. Steam rooms also help to clear the sinuses and allow your clientele to feel better than before.
6. Turkish Bath
Similar to the idea of a sauna and cold plunge pool, a Turkish bath (or Hamam) walks guests through a series of hot air blasts before offering a cooling bath at the end. This highly sought after practice is seen in various forms—with either steamy, humid or dry air. Depending on your offerings (sauna or steam room), you might want to consider providing this for your guests, too.
7. Cold Plunge Pool
Slightly less common than the aforementioned amenities, a cold plunge pool is a truly luxurious offering. After a long, hot stay in the sauna or steam room, no one wants to leave feeling overheated. Offer your guests an equalizing dip in the cold plunge pool. Kept at about 50 degrees, this pool is a great way to rejuvenate the body and mind. Battle heat-induced lethargy with an awakening plunge, and cool off before heading out for the day.
8. Slippers
You simply cannot forget slippers in your spa. Associated with the ultimate in relaxation, slippers are the icing on the cake when it comes to pampering—and who wants a cake without icing? Slippers are truly a necessity that should not be overlooked. They prevent your clients from worrying about walking on chilly floors, they keep your guests' feet warm, and they are extremely comfortable. Here are our favorites:
Open Toe: Excellent for warmer environments, this slipper is extremely comfortable without being too hot.
Open Toe Velcro: Just like the aforementioned slipper, this option is great for guests. The added bonus? It's adjustable.
Closed Toe: Excellent for colder climates, this classic slipper is exactly what your guests expect and want when they arrive at your spa.
Boca Terry: Bettering Luxury Spas
No matter who you are, you will not want to miss these top 8 amenities. If you are ready to commit to class and elegance, it's time to invest in the best. If you have questions about wholesale pricing, or to place an order, contact Boca Terry today!
Share this item with friends