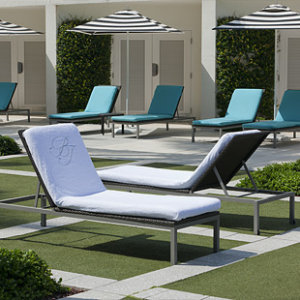 You may or may not be aware, but cruises are currently growing in popularity. The rise is due to many reasons: for starters, cruises are often viewed as an affordable alternative to higher end resorts. They still offer the same beauty and warmth of a tropical getaway, but they also offer nonstop family-friendly fun during the voyage to the Caribbean, Hawaii, or any other inviting destination.
Plus, as it turns out, winter is an extremely popular time for heading out on a cruise—whether up to Alaska to explore the beautifully blue glaciers, or out to a warmer destination. With so many guests boarding your next cruise, it is crucial to invest in versatile, practical lounge chair covers. Boca Terry uncovers the reasons why:
1. Save Your Towels
As you might know, towels are always in high demand on a cruise. Whether drying off or wrapping up, towels are found all around cruise ships. They might be used at the pool, hot tub, beach, spa, sauna, steam room, bathrooms, gym, guest cabins, and more.
With towels being pulled in so many different directions, it might be hard to feel like you have enough in stock. Making matters worse, cruise ships have limited storage space! Lucky for you, there is a solution to this difficulty. Rather than guests laying your precious towels down on a chair (without much other use), a lounge chair cover is a great alternative. It will help save your towels for their true purposes, while also ensuring that other guests have easy access to the hot commodity that your towels have become. Plus, your guests won't need to fuss with finicky towels that always seem to slip off of lounge chairs, anyway.
Best of all, lounge chair covers are extremely absorbent. That means that your guests can lay down right after leaving the water. Just as any other terry cloth item would, these covers will absorb the water and help dry off your visitors.
3. Increase Sanitation
Often, as your vacationers lay out in the sun, they might start to feel warm and, yes, they might even sweat! If each of your guests lies out on your lounge chairs every day, these seats might begin to build up a bit of bacteria—especially when combined with the humidity and moisture in the air. Although a regular cleaning can help combat this, it is also a great idea to cover your chairs during each guest's use! Change your covers each day, or even between each guest to ensure elevated levels of sanitation.
4. Protect Guests from Burns,
Many cruises lack shade, as there are no trees, buildings, or hills in the middle of the ocean to help block the sun. That means that your lounge chairs which are typically kept out on the deck, may get extremely hot—especially the metal frames and edges! This is dangerous not only for each passenger, but especially children who are more sensitive and susceptible to heat.
Protect your passengers from the discomfort associated with burns by investing in lounge chair covers. The soft terry cloth will absorb only as much heat as a regular towel, lowering the chances of getting burned and maximizing your visitors' relaxation and vacation experience.
5. Protect Your Chairs
Although your guests are of utmost importance, they are not the only ones you want to keep safe. You also need to protect your investments! Truthfully, we all want our investments to last—and your lounge chairs are no exception.
Taking the measures to protect your lounge chairs is a great idea! You chairs are often subjected to high heat, strong sun, harsh salt, and moisture from humidity and/or sweat, daily. Protect your investment with a practical lounge chair cover. This will likely prolong the life of your chairs, ensuring they are ready to be used for years to come!
6. Elevate Your Atmosphere
Lounge chair covers will not simply protect your chairs from the damaging sun's rays, but they will also enhance the beauty of your chairs. Cover up sun-damaged chairs, or prevent newer chairs from becoming damaged with a beautiful lounge chair cover. These crisp white covers are soft against the skin and look beautiful when lined up beside one another.
7. They are Easy to Use
Finally, a secure way to cover your chairs! Gone are the days of covering a chair in towels, only to readjust and realign the towel every ten minutes! Instead, slip on an easy-to-use lounge chair cover.
Opt for a fitted top, or an elastic-top. These options ensure that your cover will fit nearly any lounge chair that you have on the ship. That means that you can place a bulk order without the fear of your covers fitting improperly! Plus, our covers are long; the bottom portion is simply tucked beneath the cushion, or underneath the chair.
8. You Have Options
Whether you wish for treasured terry or velvety velour, there is always a lounge chair cover to meet your cruise line's needs. Crafted from 100% combed cotton, each choice is absorbent, soft, luxurious, and beautiful.
Boca Terry: Bettering Your Next Cruise
Just when you thought your cruise was perfect, you realize that there are always ways to enhance your guests' experience! If you want to invest in lounge chair covers and other excellent accessories to elevate your cruise, or to order wholesale, contact us today!
Share this item with friends