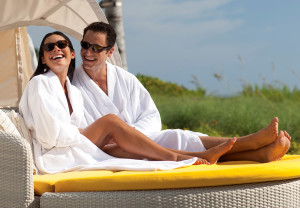 Top Bathrobes for Spring 2015
Thaw out your frozen car for the last time this year, toss your heavy coat into storage, and prepare for milder mornings paired with sunnier afternoons. That's right—spring is finally here! Now is the time to discover the best apparel for the year. You are probably aware that fashion changes each year, and even each season. Boca Terry uncovers some of the best bathrobes for spring 2015—don't miss out!
What to Look for in a Spring Bathrobe
Spring offers a widely celebrated breath of fresh air after suffering through a tough, icy winter. Spring brings about mild, warm weather that is almost perfectly balanced. Not too hot, and seldom too cold, spring brings about the air and sunshine that people crave after winter.
With that in mind, you might begin to realize that picking the right apparel—or bathrobe, more specifically—for the spring season is actually quite a tricky decision. With such unpredictable weather, trying to find the right wardrobe often requires a bit of trial and error. That is, unless, of course, you do your research ahead of time!
Good move checking out this article: you are one step closer to finding the right wardrobe for this season. The following are some of our favorite options for this spring 2015:
Basic Kimono
Although "basic" is in the name, this robe is anything but. This class, Japanese-inspired design features large pockets, a hanger loop for easy storage, a belt to cinch it around your waist, and is made from incredibly soft, cozy 100% combed cotton terry. An absorbent option, this robe is great for spring. It's not too heavy, but not too light, either. Plus, this robe is an excellent length and size.
Hooded
Because you never quite know what the weather will be, you'll want to have a hooded robe handy. Great for quickly and effectively drying your hair as you relax, exit the shower, or get ready for your day, this is the perfect pool-side companion— whether or not the sun decides to peak through. It comes available in either terry or velour, with an extra large hood for warmth, absorbency, and an extra cozy experience.
Knit Waffle Bathrobe
Donning this plush bathrobe is like wearing an extremely light quilt. Just the right weight, this robe is stitched with a beautiful diamond pattern, made from modal fibers. These fibers are characterized by their feather soft, rich and unique attributes. The shawl collar is 52″ in length and the kimono is 48″ in length. Plus, color piping around cuffs and front is available for the shawl collar version.
Velour Stripe Bathrobe
You don't know soft until you've felt our velour. Plush, and lightweight, this fuzzy bathrobe is an excellent choice for spring. You see, spring does not always promise warm days and sunshine—and that's when this robe comes into play. Facing a cloudy or chilly spring day? This is the right robe for the job. Made from 100% combed cotton velour, this robe features a chic vertical stripe pattern.
Why Boca Terry?
When choosing the right bathrobes for your hotel, hospital, resort, cruise, yacht club, or even home, there are thousands of options out there. But, why settle for an average option when the real deal is right in front of you? Our products are readily available, affordable, and ship quickly from our shipping center in Florida. Find out some other excellent features about our brand!
Manufacturing: Boca Terry takes bathrobes seriously. Browse through our website's gallery, and you will notice how much we emphasize the true value of a luxury quality, properly manufactured bathrobe. We don't pick low quality materials and pay someone to create them. Rather, we take full ownership of the manufacturing process, from start to finish. Our talented designers lay the foundation to our manufacturing—and then we source the finest materials from across the world. After that, we manufacture our products to ensure they meet our high quality standards. Ever wondered why your Boca Terry robe feels so good? Now you know
Affordable: As you can see, we cut out the middlemen associated with the manufacturing process. The result of that? We save money by doing it ourselves! We don't pocket the extra change—we pass those savings along to you so that you can receive luxury quality products at affordable, factory-direct prices! You are our biggest fans, and we value you greatly. We hope that you can see that through this act.
Consistent Customer Service: All companies have some form of customer service. However, not all companies put such a large amount of emphasis on the importance of customer service and care. We know that you are in the business of customer service and patient care—and we know that this is important to you. So, how could we offer anything less than our best? Our returning customers and positive reviews speak for themselves. Check them out if you'd like!
Boca Terry: Bringing Spring to the Next Levels
Ready to make the move that will influence your relaxation wardrobe this spring? Have questions about wholesale pricing? Ready to place your order? Contact us now! The terry experts are ready to help make your spring your best season yet!
Share this item with friends