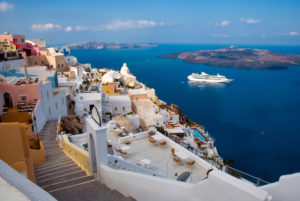 Check out the hot spots you'll want to hit on the high seas
When it comes to cruising, it can be hard to narrow down where you want to go. Since our planet is covered in water, it's safe to say you can cruise to (or near) almost any country — and picking one is a tough task. Need a few tips from the travel experts? Here are some of our favorite fall cruise destinations:
1. Jamaica
Sometimes it can be hard to let go of summer — and fall is known for giving most states our first taste of crisp and cool air. Not ready to give up on the warmth just yet? A Caribbean destination will do just the trick.
Now, Jamaica isn't known for having the whitest sand or the bluest waters like other Caribbean destinations (though it is absolutely gorgeous and everything you'd expect out of a tropical island). However, it does boast some of the most culture, in our book. The hospitality, friendliness, and absolute joy of being alive comes across from nearly every Jamaican we've met when we travel out there.
And besides big personalities, Jamaicans can also boast spicy and flavorful foods, timeless music, and a variety of exciting experiences like jet skiing, snorkeling, and other amazing water sports. If you're going to take a cruise out the Caribbean, we highly suggest you make sure Jamaica is on the short list. But pack light! It's going to be warm.
2. Alaska
You want to catch Alaska before the dark season sweeps in, so you can experience it in all its glory. Alaska is huge, and that means it's full of variety: breathtaking mountains, beautiful glaciers, and wildlife you thought you'd only ever dream of or see on the screen. What better way to experience our country's largest state than on a cruise, taking you along the coast? Just be sure to bundle up with extra slippers and a big, fluffy robe — you wouldn't want to get too chilly out there.
3. The Mediterranean
There's just something about the robust nature of the people, the richness of the culture, and the impeccable food that tells us the Mediterranean is an absolute must if you're thinking about cruising. Enjoy the romantic views in Spain, explore the adorable boat ways of Italy, and witness firsthand the deep blue waters of Greece. When you're not taking in the views, the calm waters of the Mediterranean offer the perfect opportunity to fully relax, unwind, and enjoy the peace you've worked hard to experience.
No matter where you're going, bring Boca Terry with you.
Whether your cruise line offers the top-notch bathrobes and spa accessories or you pack your own, a vacation isn't truly a vacation without Boca Terry. Check out our retail collection — or if you're thinking about ordering wholesale, you can contact us here. If you're a hospitality professional, we'd be happy to work with you to find the right selections to enhance your guests' experience.
Share this item with friends