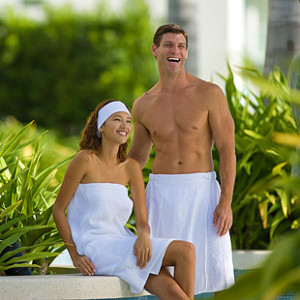 When heading out to the spa, no one wants to be burdened with worry. Rather, they are off to the spa in hopes of a carefree hour (or sometimes full day) to sit back and relax. This experience can be elevated by ensuring you offer the right amenities and accessories—so if you want to give your guests the best spa experience in town, make sure you offer the best in your establishment. That includes the increasingly popular, highly rated spa wrap!
Turn Your Guests' Drab Days Around
Your guests want to unwind their minds and experience relaxation at its finest. Your goal is to enable your visitors to enjoy this, so allow them to encounter a fully stress-free day at your spa. The first step is with great spa wraps—but you might be wondering why spa wraps are such a great choice. Boca Terry offers our take:
Why Opt for Spa Wraps?
Your guests have arrived and you've offered the trusty towel, but you notice that some visitors are not happy with this option. Why? Well, even when you invest in top quality bath towels, your guests might grow weary of trying to cover up with insecurely wrapped towels. This goes double if your towels are not the best quality.
Rather than only offering towels, many spas choose to provide robes for guests. While robes are another a great option for spas to provide, this garment tends to be too heavy or covers too much skin during various spa treatments, such as the sauna or a steam bath. So, what is the answer to this spa accessory dilemma? Spa wraps.
Spa wraps, or bath wraps, are the ideal companions whether you're lounging near the hot tub or getting a massage. Wraps do not have sleeves or belts, making them easy to use and ultra comfortable. This garment is secured by 3 snaps for an easily adjustable fit. Not to mention, elastic also helps keep each wrap snug and secure while your spa guests move around. That means there will be no more embarrassing moments fumbling with a towel! In fact, these wraps offer guests the piece of mind that a wardrobe malfunction is not a likely threat—phew!
These wraps cover just the right amount of skin: men's wraps secure at the waist and fall at about the mid-calf, while women's wraps secure above the chest and typically stop just below the knee. As one can see, spa wraps are easily adjustable, come in various sizes, are soft, plush, and snap-secured so that your spa visitors can finally relax.
How to Order
Ordering spa wraps is as simple as making a few choices. That's the beauty of our spa wraps—you can mix and match them to make sure they represent your spa at its best. Here is a simple step-by-step process to design your prefect spa wraps
First, choose the color you would like to purchase—whether white or ecru. Please note that ecru is only available in women's spa wraps.
Then, decipher whether you would like men or women's sizes.
Next, identify which fabric you would like used for your wraps: choose from microfiber, velour, basic waffle, and knit waffle.
Finally, you will want to choose which sizes you would like to purchase. Choose from one-size-fits-all up to XXL for both men and women's wraps. Women's wraps also come in size 4XL.
Here are a few more quick, helpful tips to remember when ordering: men's wraps are available in white only in either Velour or Basic Waffle. Women's wraps are available in white or ecru in Velour, Basic Waffle, Knit Waffle or Microfiber.
Customization Made Possible
Once you are further into the ordering process, you will need to identify whether you would like to customize your items. Whether you wish to use a customized pattern, or you want to have your spa wraps embroidered, personalization is always a possibility with Boca Terry. Best of all, you are having your spa wraps customized by the company who has manufactured them—meaning that we know how to personalize them best!
Invest in the best spa wraps and allow Boca Terry to take your spa to the next level. Guest experience is a top priority—they must always come first. Guests are the reason behind everything you do, and they are the ones in charge of keeping you in business! Please your visitors with top of the line wraps—that is the Boca Terry difference.
Why Choose Boca Terry?
We offer products that are luxury quality
We are in charge of product design and manufacturing
We offer fast shipping, thanks to our worldwide shipping centers
Our products are manufactured to be affordable
Boca Terry: Bringing Your Spa to the Next Level
Elevate guest experience—and you might even increase your ratings online. Choose quality spa wraps and more accessories from Boca Terry that are designed and crafted with you (and your valued customer) in mind. If you are ready to place a wholesale order with us, or if you have a few questions you'd like answered before you make that commitment, contact us today!
Share this item with friends