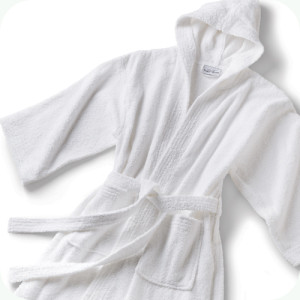 Terrycloth is known, not only for its unmatched strength and long lasting durability, but also for it's soft and versatile nature. In fact, we are so enthralled with the ability and quality of terrycloth that we even chose to associate our entire company with the material — hence the name, Boca Terry.
Terry cloth never fails to deliver its reliability and strength (two of our same goals). The following are important tips to consider when keeping your terry robes, spa wraps, and towels properly cared for.
What is Terry Cloth?
Before caring for terry, it is important to know what it is. Terry cloth is a fabric made from 100% cotton threads that is manufactured by weaving or knitting. The fabric has a cotton base, and that base is covered in thousands of loops or hooks of cotton thread — these hooks serve to capture and hold water drops. The more loops that a terry cloth item has, and the larger they are, the more absorbent this item is.
Because of its absorbent nature, terry cloth fabric is often utilized for making towels, washcloths, robes, slippers, and more — really, for any item that comfort or absorbency is a factor. 
I'm Just Wild About Terry
We are terry cloth experts, making us the perfect source to acquire your terry care tips. Although terry cloth is a strong, durable material, proper care will prolong the life of your terry cloth robes, towels, slippers, and more! Follow our suggestions to keep your terry in the best condition:
When Bleaching:
We highly recommend using only non-chlorine bleach on your terry cloth items. This will prevent your terry from becoming damaged, as chlorine bleach is too strong for terry; it tends to weaken the fibers over time, as well.
Drying Your Terry
Drying terry cloth requires making a few important choices. Using a dryer is the quickest option, but it is not always the best option to prolong the life of your terry. If you do decide to utilize your dryer, using a lower heat setting is better for your terry. The problem, however, is that it tends to draw out the drying process for bulky items, such as towels or robes. Again, heat is the determining factor, here. You do not want to dry your items on too high of heat, as it is likely to cause your terry to break down over time, regardless of the quality of the product!
If you really want to protect your terry cloth items, we highly suggest line drying! By allowing items to be dried only by the natural air, their use will be prolonged!
Storing
Storing any fabrics in a cool spot, away from direct sunlight is a good way to keep them fresh and ready for the next time they will be used.
However, this can cause a problem every now and then, depending where you live. Did you ever wonder why good ol' grandma's house always smells like mothballs? Well, grandma probably keeps a lot of items in storage, and doing so can lead to clothing moths! These pesky pests are hungry for your natural fabrics, including cotton terry!
If you find yourself with little holes in your shirts, towels, or other items, it might be time to invest in moth-repellants. (As a natural option, utilize cuts of cedar wood: it repels these hungry moths and keeps them away from your precious terry cloth).
Our Terry Offerings
What's in a name? Well, an identity, of course! As you already know, we are obsessed with terry, here. That is why we offer terry in some our favorite forms:
Boca Terry: Teaching Trusted Terry Tips
We are passionate terry cloth so it seemed fitting to provide our loyal readers with a few terry tips. Please use our tips to ensure the long life of your terry cloth products.
If your terry cloth is on its last leg, or if you are otherwise interested in affordable, high quality terry products, contact us for wholesale pricing, or to place an order!
Share this item with friends