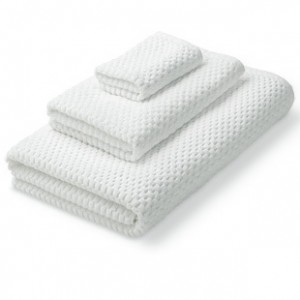 Your plane finally lands on the runway on your favorite tropical island. You peek your head through the window and notice the beautiful palm trees blowing in the wind. The bright sun begins to slip behind the grassy, rocky mountains in the distance. As night approaches, you realize that there is no time to head to the clear, bright blue waters at the beach; how about a dip in the hot tub to unwind before you call it a night?
Not Just Another Towel
After a relaxing 15 minutes in the soothing, steaming hot tub, you are ready to dry off. You reach for the towel stack next to the tub and become amazed as soon as you grab hold of one. This towel is soft, fluffy, durable and heavy. As soon as your wrap your dripping shoulders, you notice how absorbent this towel is! This is not just another generic, cheap, hotel bath towel.
Benefits of Purchasing High Thread Count Items
Everyone knows that a higher thread count makes for a phenomenal feel and superb softness. The days of only counting threads for your sheets, alone, are over! Find out why towel thread count is important (maybe even more important).
Thread Count and Towels
When you are looking for the softest, highest-rated material, thread count plays a huge factor. We all know that a high thread count is desirable; let's take a look at how this affects towels.
What Does it Mean to Count Threads?
Rather than mindlessly following the fad, it is important to first find out what thread count is. Southern Living Magazine reveals, "Thread count is defined as the number of threads, horizontally and vertically, per square inch of a fabric. Shoppers should realize that there are many factors that affect a sheet's thread count" (SL). While thread count seems to be a pretty straightforward subject, unfortunately some companies in the past have bent the rules of the practice.
The Truth about Counting Threads
With thread counting comes thread count abuse. Unfortunately, many companies began to exaggerate their items' thread count in order to sell more products and raise the price of their merchandise. Rather than counting the number of threads per square inch, companies began to count the number of cotton strands. If their product were made from uncombed cotton, these companies would count each little, scratchy, short strand in the fabric (even if it was likely to fall out due to its short nature).
Be Informed, Be Aware
What does this mean for the buyer? Beware. Quality items are obvious, not only by the number of threads listed, but through the actual product. There are some important things to look for when buying towels:
How to Inspect Merchandise
According to Good Housekeeping's advice, buyers should "inspect the stitch for thick, tightly packed loops. The denser the loops, the more absorbent your towel will be. If you can see the base of the towel, it's bunk" (GH). It is obvious that less thread means less material. This, in turn, relates to overall product quality issues. Nothing is going to feel soft and absorb a great amount of water when the base of the towel is showing.
Thread Count and Absorbency
Towel loops enhance a towel's absorbency, as they trap water droplets in their hoop. A towel featuring a higher thread count should offer a greater number of towel loops. This means, towels with higher thread count have maximum absorbency.
Always Feel for Fraud
To avoid thread count fraud, "Don't just twiddle the towel on the shelf — pick it up! A high-quality towel will feel heavier than it looks, proving that it's packing more volume for absorbency" (GH). If a towel really has as many threads as they claim, customers will feel it in the product. A heavy towel alludes to the fact that more thread was used.
How to Avoid a Dud
Always research a company before purchasing towels. If you don't recognize the brand name, find out more about them before you break out your credit card. This is why Boca Terry towels are a great choice; our customers and clients know us and love us. A trusted name, we have experience designing and producing towels for some of the biggest names in the business.
Thread Count and Cotton Quality
Thread count might not mean much if a company uses cheap cotton. By using combed cotton, a manufacturer ensures that the product is high quality, soft, long lasting, and durable. Combing cotton sifts out the short, scratchy hairs and leaves on long, smooth cotton strands.
Our Towels are Unmatchable
Made with 100% combed cotton terry, our towels are what every hotel, resort, and spa is after. Choose from the Sunny Lane Towel Collection, featuring classic, white terry cloth towels, or the Resort Towel Collection, which is offered in checkered terry.
We offer four sizes: wash cloth, hand towel, bath towel, and bath sheet. Our Sunny Lane Towel Collection also offers a large, absorbent beach towel. What is the best part? All of our towels are made with the same high quality material, no matter the size.
Make a Name for Yourself
It is easy and affordable to customize your towels with embroidery! Make your spa, resort, or hotel a place your guests will never forget; invest in the most comfortable, durable, strong towels available, and add your logo!
Quality without Question
The truth of a product is in the product itself. A great manufacturing process paired with excellent materials produces an outstanding item. Lucky for our customers, we never compromise quality in any step of the process.
Boca Terry: Our Promise
We promise an outstanding product. From the designing to manufacturing, we never settle for less; neither should our customers. Treat yourself and your clients to a luxurious, soft, high thread count towel, today! If you are ready to experience our towels, contact us regarding our products and pricing
References
"How To Shop for the Softest Sheets." Southern Living. Southern Living. Web. 21 May 2014.
"Towel Buying Guide." Good Housekeeping. Good Housekeeping. Web. 21 May 2014.
Share this item with friends