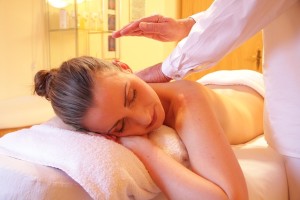 Whether you want to be like the "Bathrobe Crusader" and wear a bathrobe to roam the streets and venues that comprise your daily life, or you just want to unwind, finding the ideal bathrobe is simply a must! Although it's not the best idea to wear a bathrobe in every location you dream of comfort in, there is still a wide range of places you can benefit from this snug companion.
Are you planning on staying in for a relaxing movie night? Or are you thinking of going off on a guilt-free weekend getaway? Whatever the case might be, Boca Terry's large selection of unique and high quality bathrobes are perfect for any occasion.
Passionate Athlete
If you're an ambitious sportsperson who loves the adrenaline rush of being in a competitive atmosphere, then you know it can often have a demanding effect on your physical state. That calls for the need to kick back and relax on a regular basis.
Boca Terry's Basic Kimono can help you do just that. If you're leaving the gym or basketball court and hitting the showers, having this bathrobe nearby will make your bath time much more enjoyable. It's lightweight and easy to fold to pack in your sports bag. Available in terry or velour variations, you won't have to worry about packing a large towel with you.
Royal Dreamer
You might have always dreamt about being an heir to the throne of Louis IV or Queen Elizabeth. Just because that's too far from reality, doesn't mean you can't get a taste of that dream. Boca Terry's Satin Stripe Kimono is made of 100% polyester on the outside and lined with 80% cotton and 20% poly soft French terry knit lining.
If you prefer to go for a queenly pastel shade, you can wear Boca Terry's Pink Kimono Satin Robe, which is made of 100% polyester and comes at a shorter length. Boca Terry's satin selections will give you an imperial aura no matter where or over which wardrobe you decide to wear them.
You can even wear these particular bathrobesto get ready for special occasions like weddings and singles' events. Their form fitting and breezy nature make these bathrobes a pure pleasure to wear while getting ready for a memorable event or even to make a honeymoon truly unforgettable.
Self-Gifting Trendsetter
As you probably already are aware of, the holidays are right around the corner. While you're anxious about not leaving anyone out of your gift shopping list, why don't you include your name on there, too. Who said you can't treat yourself with a chic and practical holiday present?
There's no better way to kick off the holiday season than with a bathrobe that puts much-needed comfort on high priority. Our Classic Shawl Collar bathrobe can accompany you as you do your online holiday shopping and enjoy a cup of tea, instead of hauling the determined crowds at the mall.
You'll most likely love your bathrobe so much that you'll want to opt for spreading the holiday cheer with it as a sensible gift option. Anyone of your loved ones from virtually any age group will appreciate getting their very own Boca Terry bathrobe.
Original Persona
With Boca Terry, you have the option to customize your bathrobe order. Whether you own a hotel, fitness club, or spa, you might want your emblem or monogram to display your trademark appeal to enhance your brand awareness. Boca Terry works with a large assortment of industries.From the aforementioned to event planners and cruise lines, we're familiar with how to meet the individual preferences of different sectors.
We can embroider your Boca Terry bathrobes and spa accessories by stitching the design you like. Customize your bathrobes' with personalized designs and prints, and you can do the same with Boca Terry's towel and slipper lines.
"Go Green" Advocate
If you have an eco-friendly nature and appreciate maintaining environmental sustainability, Boca Terry's range of organic bathrobes is sure to fit your ecological liking. Made of 100% certified organic cotton, our bathrobes are manufactured with processes that keep your health, and that of Mother Nature, safe.
Choose among our three organic lines:
Organic Basic Kimono
Organic Classic Shawl Collar
Organic Lightweight Waffles
All versions come with generous pockets to comfortably fit your belongings and a hanger loop for easy storage. Take an organic bathrobe with you on a camping trip or on a weekend retreat by the lake. Choose one for your significant other, for a matching pair.
A Whole World of Selection
There are levels from which you can draw your inspiration and exude your personality or brand onto your bathrobe(s). No matter what occasion you want to be charmingly comfortable in, or would like others to join in on the comfort with you, Boca Terry offers several choices to cater to your taste.
You deserve to take the time to relax and enjoy your free time. Choose the bathrobe that'll make you want to stay in or go to the event you've been looking forward to.
If you're still unsure about which bathrobe is the best one for you, contact Boca Terry today, and our experts will help you make the right decision.
Share this item with friends