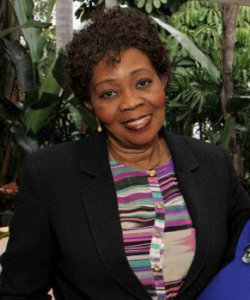 Trudy Barrett, Director of Housekeeping at The Colony Palm Beach is such a sweet, genuine lady; it was a great pleasure catching up with her! She has a number of years' experience in the hospitality sector, so we decided to learn a little more about Trudy and her role in the industry.
What is your favorite part about your job at the Colony Palm Beach?
I like Training and retraining, because I have a lot of staff from different countries. My department is like a mini United Nations. Where my staff comes from, things are different. My team is from Haiti, Guatemala, Russia, Germany, and all over. I really enjoy it because I get to learn from them, also.
This month marks your 13-year anniversary with the Colony Hotel, so first of all, congratulations! On that note, what has kept you with the company for so long?
I like this hotel to retire in. It's a nice little boutique hotel, and I call consider it my home. I can close my eyes and go anywhere in the building. Also, the general manager is very nice but still stern — he is a good balance.
Plus, I got married here 7 years ago and our General Manager was the giveaway father. Like I said, we are all a family.
How large is the team that you work with?
Right now I have 25 staff members, but I've had up to 52. This is a smaller hotel—we have about 64 Guest rooms, 16 Suites, 3 Penthouse Suites, and 7 villas across the street.
My staff is important because a lot of important people come here. President Clinton and President Bush have both stayed with The Colony.
The Colony often features local talent, such as singer Avery Sommers and musician Copeland Davis. You even had Regis Philbin and his wife come by! What other fun activities does the hotel hosts for guests or the community?
We offer all the fun cabaret shows, and we have Motown every Friday night. You would love Motown; I've got to tell you! We are always full for Motown night; everybody comes early to find a seat, and it's really a good time.
What is your favorite part about the hotel?
I love taking care of our guests. We have a lot of return guests — some stay for 6 months or even a year, so we know what they're looking for when they stay with us. I always have the chance to set up their Villa and rooms with everything they like, whether they want coffee, milk, or any special requests. I can tell they feel so happy when they return, and realize that we know what they like. We are happy when guests are happy!
You order some of your products from Boca Terry. How did the Colony discover the brand?
I used to order from one of the salespersons, while he worked in another company. When I heard he moved to Boca Terry, I had to change right along with him. Here's why: he is this kind of person that, if I need something now, he will get it to me. Even if he has to drive in his car, he will bring it to me. Those are the kind of people that Boca Terry works with.
Please describe your experience working with Boca Terry.
Overall, it has been very positive. There have been no problems at all. I like Boca Terry so much — I can always get everything on time, and they always send me samples! They say, "Trudy, pick which one you want." That way, I always know exactly what I'm getting. I buy all of our slippers and robes from Boca Terry, and they're very good quality.
Would you recommend Boca Terry products to your friends and family, or others in the hospitality business?
I recommend Boca Terry everywhere to everyone. As a matter of fact, I tell you all to contact my friends over at the other hotels all the time. I really recommend these products.
Share this item with friends