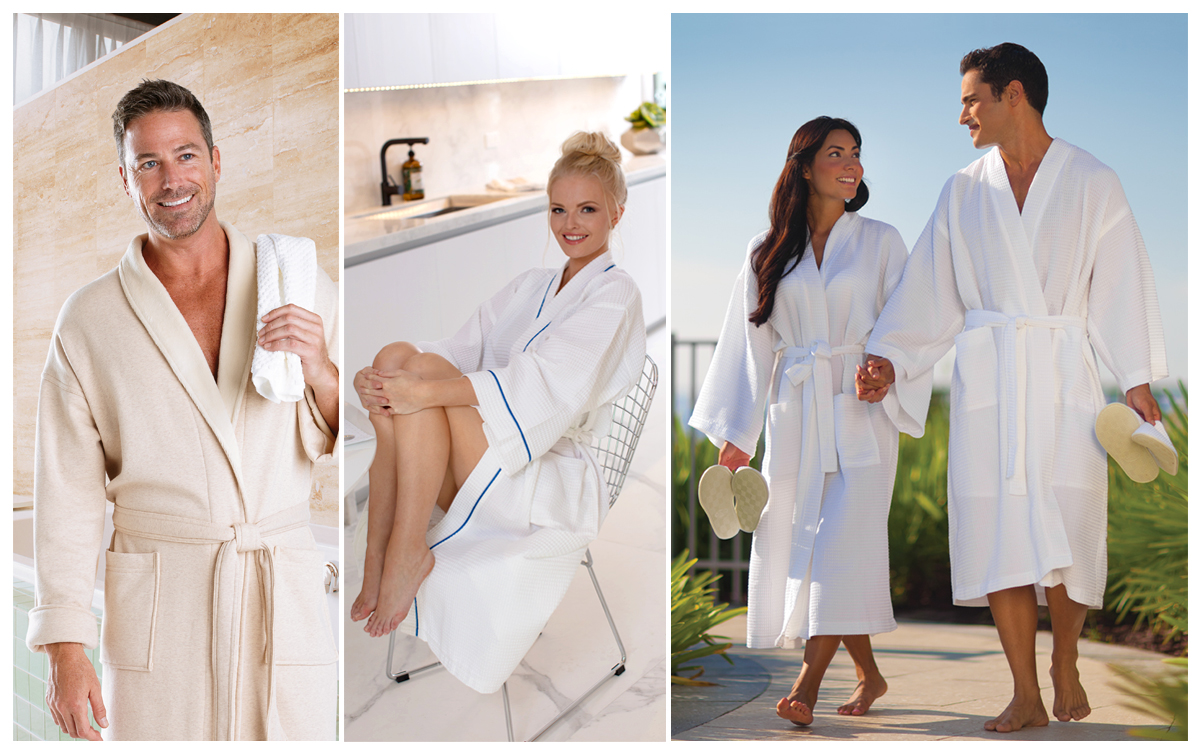 Bathrobes
Simply envision putting on a delicate satin robe from Boca Terry in the wake of scrubbing down and snuggling up in your own bed.
There is nothing like slipping into a delicate and comfortable wraparound in your room in the wake of a difficult day. That is one of the many advantages of staying at a five-star hotel — you get the opportunity to wear the best. Boca Terry products are extravagant and give you that spa-like feeling no matter where you are.
Fortunately, Boca Terry makes it easy to take that extravagant feeling back to your home.
Slippers
We're fanatical when it comes to slippers. Regardless of whether you wear them with your robe in the first part of the day, as a rest for tired feet at night, or throughout the day around the house, odds are a couple of good slippers should be a piece of your footwear closet. Likewise with whatever other shoes that see everyday wear, it merits discovering ones that have highlights that make them agreeable and useful for your feet. Boca Terry has great options for both men and women that provide warmth and comfort and most importantly, that hotel spa feel.
Spa Accessories
Take a look at your guest bathroom. Is it inviting? Is it welcoming? Is it spotless? In the event that you answered "Not so much!" to any of these inquiries, maybe it's a great opportunity to give this room a makeover and give your visitors a space worthy of revisiting. Don't panic —while just the mention of a restroom remodel may make you see dollar signs, it's totally possible to create a spa-like climate with only a couple of adornments. Truth be told, a soothing spa-like bathroom is best accomplished with a few adornments, making it simple to transform even the most challenging restroom into a zen-like space.
To accomplish the look and feel of a spa, it's ideal to begin with a clean slate. To start, remove all miscellaneous items from the washroom counter and toilet tank. Remove tacky artwork and fluffy toilet seat covers. Give the bathroom walls a new layer of paint in an alleviating shade, for example, light blue or great white. Now, give the entire bathroom a profound cleaning.
Now you're ready to add in some simple yet wonderful adornments and thoughtful touches deserving of a five-star resort. Once you're done, your guests will be wowed and may never want to leave!
Towels
Towel shopping can be confusing. You can discover two towels that appear to be identical, yet one is $12 and the other is $50. What's the big difference between them? Additionally, what's all the hype about Egyptian cotton? Is it noticeably superior to American cotton? We decided to find out.
What makes a towel incredible? As a matter of first importance, they must have the option to absorb water productively—that is their primary job all things considered. Be that as it may, we additionally considered the weight and feel of each towel, on the off chance that they get smelly, that it is so natural to remove stains, and that's just the beginning. While a few towels adapted to the situation, others gave a dull presentation.
We gathered together probably the most well known and profoundly evaluated towels accessible today, including items produced using a wide range of cotton, and we put them under a magnifying glass. In the end, Boca Terry's select assortment of towels consistently deliver on both incredible quality and cost.
Lounge Chair Covers
Boca Terry's lounge chair covers come in 100% combed cotton terry. They have strikingly finished cotton tape edges along the hems.
With a strong attention to detail, the intricately structured loops are strategically designed to absorb the utmost amount of moisture. Stitches are tightly sewn to prolong the life of the chair covers. They can blend in both classic and contemporary environments.
We are extremely diligent when it comes to choosing the finest materials for our products. Our different lines are created with durable fabrics that can withstand the demanding laundering practices that are necessary to keep with hotel sanitation standards.
The durability of our terry cloth lounge chair covers also helps you save money for the long run. You won't have to worry about spending more on re-orders and instead, you can use the saved money to buy other Boca Terry products that will assist in enhancing your brand awareness. If you're a boutique business that allows guests to take your merchandise home with them, this is especially useful.
Most hotels and spas spend so much on modish architecture and design elements that sometimes, other modes of comfort are left out. The smallest details that focus on coziness are what keep clientele coming back for more.
Share this item with friends