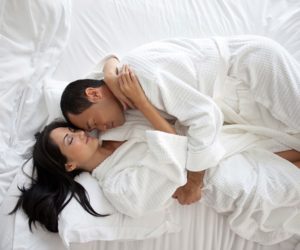 Take these extra steps to create a setting that couples will love
Let's say someone is planning a vacation and wants to stay at the ultimate romantic getaway. Where do they turn? Maybe a fancy hotel? Perhaps a humble campsite? Or what about the community-driven Airbnb?
While those are all options (although it depends on how you define "romantic"), one place stands out among the rest: the cozy and charming bed and breakfast. It's the perfect solution for folks who are looking for a sweet and unforgettable weekend.
As a bed and breakfast owner, you need to understand that the romantic aspect of your establishment can be the deciding factor in whether or not guests will return — or if they'll book in the first place.
How can you make your establishment even more romantic than it already is? You might need a few ideas. No worries, we've got you covered:
1. Adjustable light dimmer and candles
Nothing says sensual like the glow of dim lighting. And there are several ways to achieve this in a bed and breakfast: a light dimmer or set of candles will instantly set a dreamy mood in every room.
2. Built-in surround sound music system
Another huge factor for setting the mood is music. That's why more bed and breakfasts are installing built-in music systems. And to ensure that there are no complaints about the music other guests have chosen, you can set a continuous playlist filled with sweet songs (hello, Sinatra!) — and don't forget to limit the max levels on each system in every room, so as to not disturb those in rooms nearby.
3. Spa services
If you really want to impress your guests, offer them spa services right in the establishment. Something as simple as a natural facial or a 15-minute massage shows that you're willing to go the extra mile for their wellness. Really want to pamper them? Invest in affordable luxury spa accessories, like a spa wrap, a soft headband to keep their hair out of their face, and a large waffle blanket to cover any tables or chairs that are used.
4. A private bathroom (and tub!)
Who doesn't dream of kicking back with their significant other in a warm and romantic bubble bath? It's a sweet way to cozy up with one another — especially during chilly winter months!
5. Beautiful bathrobes
Once they hop out of the tub, your guests are going to want an easy way to dry off and keep warm, while staying just as cozy as before. That's where a luxury bathrobe comes in. And at affordable prices, it's going to be no problem putting a pair in every room!
Ready to pamper your B&B guests?
Showing them how much you care is just a few steps away. Provide your B&B guests with luxury quality bathrobes and spa accessories. Contact us today with any questions, to learn more about our pricing, or to place a wholesale order!
Share this item with friends