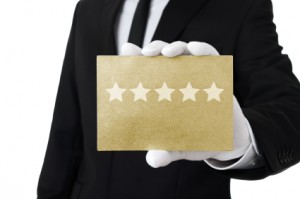 When it comes to the hospitality industry, everyone agrees that there are two polarities that determine service indifference or service excellence. At Boca Terry, we believe that these polarities lie in how one's staff responds to difficult questions, whether it is with indifference, or an ardent desire to find the answer if one is not at the ready.
Finding Out the Answers
Questions are always asked in our industry, whether it is to ask where to find something, ask how it is made, ask if it can be customized, and the like. We pride ourselves on trying to find out the answers to as many questions as we can well in advance to make sure we can respond with solid professional intelligence.
But there are times, as we all know, that we just don't have an answer yet. This is the crucial moment when two responses can be made: "I don't know" or "Let me find out."
"I don't know" on its own is not a bad thing, as long as you follow it up with the second response. However we have noticed that there are far too many times when personnel leave it at the first, with guests left to figure things out on their own. This does not bode well for brand reputation.
Having the Right Response
At Boca Terry, our response is always, "let me find out," and this is not only because it's an essential business practice, but also because we're interested in knowing what we don't know. Taking this kind of initiative goes a long way with guests and clients, as it shows that you care, which is the essence of good hospitality.
Knowing Your Product
Anyone who works at your company is a representative of the brand, no matter how small a role he or she plays. Our directive is that all Boca Terry employees need to know as much as they can about our products from the inside out: how they are made, what the manufacturing and production protocols are, how they are best maintained, and the like.
Don't Be Content With Not Knowing
We emphasize that it is okay not to know, but not to be content with the not knowing. Clients are turned off by an indifferent staff member, and just one employee can do big damage to your brand if he or she is not ready to find an answer.
Keeping Standards High
When your standards are high, you keep the morale of your staff, as well as your clients or guests, equally high. Sharing information, making lists of questions asked, and adding questions of your own is a way to keep the knowledge flowing.
Creating the Loyal Followers You Deserve
Because service excellence is about caring, and caring shows itself in the details, it is essential to be as diligent as possible when it comes to staying alert and ready for any eventuality. With the right kind of attention and action, you will then create the loyal followers that you deserve.
Share this item with friends