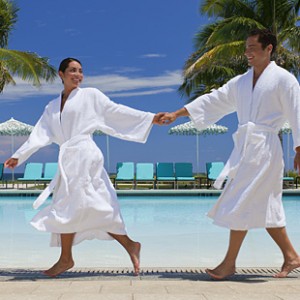 Whether intended for slipping on after a shower or lounging in coddled comfort, a robe's most important feature is the fabric used in its construction. Today's robes are available in a broad range of textiles, from classic cotton to sumptuous cashmere, and it's important to consider feel, absorbency and weight of the material when making a selection.
Cotton Terry
Classy and cozy, soft Egyptian and Turkish cotton has been used for decades in bathrobes and towels. Available in a wide variety of weights and thread counts, robes of cotton terry have great water absorbency and are very popular for use in hotels and spas. However, the trade-off is that the more water absorbed, the heavier the fabric becomes, making post-shower wear a bit bulky at times. As with all 100 percent cotton fabrics, it's wise to look for pre-shrunk material.
Cotton Waffle
Easily identifiable by its signature square or diamond textured pattern, cotton waffle has the absorbency of cotton, but is thinner and more prone to shrinkage unless pre-treated. Inexpensive and ideal for bulk purchasing, cotton waffle fabric is often used in promotional souvenir robes or by hotels and spas that make large, frequent purchases.
Cotton Velour
Perfect for snuggly lounging on a winter evening, cotton velour has the velvety texture of its synthetic cousin, polyester velour. Soft and thick, it's a super fabric for winter robes and should ideally have a cotton content of at least 80 percent.
Satin and Silk
Summertime calls for cooler, silkier fabrics, and the airy feel of silk and satin robes is ideal for warmer weather. Though not boasting the water absorbency of spa-friendly cotton or looped microfiber, silk and satin fabrics provide light, fluid coverage in steamy weather.
Microfiber
Versatile microfiber is a combination of the light, breezy feel of silk and the breathable quality of cotton. Manufactured with fibers far smaller than human hairs, microfiber can be woven into a luxurious, sleek suede finish or whipped into millions of tiny loops to create superior water absorbency and softness. Available in several weights and textures, microfiber robes are perfect for after-shower use or comfy lounging.
Dual Layer Microfiber
Often used in spas, some robes are manufactured with a brushed microfiber outer shell and a cotton terry inner lining. This cool combination of looks and performance gives a smooth, suede-like appearance to the garment, while retaining the high water absorbency and soft feel of cotton terry. These elegant robes are popular in high-end spas and as gifts for special occasions.
Cashmere
The ultimate in cloud-soft luxury, cashmere robes are pricier than most other options and the fabric is available in numerous varieties of varying quality. Cashmere robes are mostly purchased as winter loungewear, wrapping the wearer in a lightweight, ultra-warm cocoon of coziness.
Chenille
Cozy, comfy chenille has grown quickly in popularity as a robe fabric. Micro-chenille is particularly desirable as robe fabric due to its ultra-insulating 100 percent polyester composition. Be aware that the quality of chenille varies widely. Since both superior and inferior types look exactly the same, be sure to feel a sample of the fabric to ensure it has the softness and light weight of better quality chenille.
For more information or assistance in choosing the perfect fabric for your cozy, stylish robe, contact Boca Terry at their direct contact phone number (954.312.4410), toll free number (877.421.6001 x210), toll free fax number (866.530.9743) or visit www.bocaterry.com.
Share this item with friends