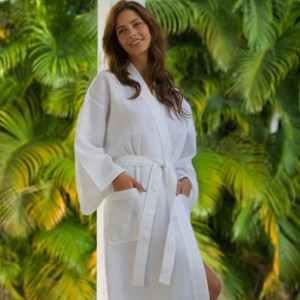 We know that we need no introduction as the premium luxury bathrobe supplier for hotels, bed and breakfasts, and spas throughout the United States, and elsewhere on the globe. With an impressive roster of top tier clients, the Boca Terry brand has become the generic term for quality items that help discerning customers boost the ratings of their hospitality services the world over.
Defining the Perception of Your Brand
In this competitive business, every detail counts when it comes to representing your product and services. The level of care and attention you apply to the comfort of your guests is evidenced in each singular element that you place within your establishment's walls, where everything from your cutlery to your sheets define the public's perception of your brand.
Available for Consultation
Boca Terry has been in business for many years, honing our skills as not only a supplier, but as an adviser to clients looking to upgrade their image through purchase choices that reflect a keen involvement in current trends and exceptional materials and styling. Our design experts are always available for consultation regarding the best bathrobes to choose for your particular venue, especially if you cater to seasonal vacationers, include a spa facility, and offer an online or in-house boutique.
Start With a Classic
One piece of advice that we unilaterally give to all of our clients, as well as to our prospective customers, is to start with the purchase of the most classic and all around beloved design, the hooded terry cloth bathrobe. This is a style that everyone covets for its head-to-toe coverage, the sense of coziness and security it gives when draped around the body, and its timeless look that never goes out of style.
Raise Your Ratings with a Great Robe
There is no doubt that a hotel is often rated on the basis of its amenities. With bathrobes counting as one of the most important elements in the quality of one's stay, choosing the right one is of paramount importance. You want to make sure that the robe not only looks good, but is made with the highest attention to craftsmanship.
Here is where Boca Terry's reputation kicks in.
A Chain Reaction Based on Well-Being
Our mission to ensure that each and every guest feels pampered, comfortable, and ready to relax and shed the stresses of quotidian life by reveling in what your hotel, bed and breakfast, or spa has to offer is of utmost importance. We know that if your clients look and feel good, it makes you look and feel good, and then, of course, so do we! It's a chain reaction where everyone benefits based on well-being and joy. At Boca Terry, we feel that this is what makes the world go round. Once everyone is happy, real profit is made, in every sense of the word.
Taking the Business of Relaxation Seriously
A good terry cloth robe is elegant and chic. It is emblematic of the utmost in pampering, giving the wearer permission to bask in its all-encompassing embrace. Boca Terry raises the bar on this classic style, taking the business of relaxation and looking good very seriously.
Impeccable Quality Control and Testing
Made in a one-size-fits-all for both men and women, we create every one of our robes as if they were one-of-a-kind. This is shown in our impeccable quality control and constant product testing, where we never stop striving for ways to perfect our merchandise in both manufacture and production.
Exclusive Materials from the Best Sources
Our hooded terrycloth robe is made with exclusive materials from the best sources. With their fine stitching, expert looping procedures, and guarantee of durability, we keep our eye on quality control from concept to delivery.
Ideal for Cuddling
Wearing our hooded terry cloth robes is like a warm embrace from the moment you tie the belt around you. Ideal for cuddling, the fabric is soft and plush, enveloping you in warmth as it wicks away moisture, keeping you safe and dry. With its ample pockets for your hands, you can also put your keys or other necessities inside without fear of losing them.
Sensitivity to Design
Our sensitivity to design is shown in the inclusion of double belt loops that allow you to adjust for your individual waist height, and the strong loop on the inside of the collar is prefect for hanging the robe up to dry on any available hook. The ample hood keeps the back of your neck from getting chilled, and is perfect for those moments when your hair is wet from the pool, shower, or Jacuzzi.
Sensual Musts!
Made of 100% combed pure cotton terry, the perfect blend of cotton and polyester, or organically grown cotton, our robes are sensual musts that give the wearer much more than he or she bargained for. In fact, we know from the many responses we cherish from our clients, that people are hard pressed to take our hooded terry bathrobes off, experiencing their seductive comfort from the first!
Standing the Test of Time and Saving You Money
Take a look at the impeccable multi-needle stitching we have placed around the cuffs, pockets, and front of our robes, and you will have another reason to believe us when we say that no one else in the industry makes robes like we do. Because we make sure that every stitch is made to last, that every loop is made correctly, and that our terry fabric is the best when it comes to absorption, our robes stand the test of time, of the wear and tear so common to the industry with the many launderings they must endure. And of course this means you save money, as you don't have to replace our products as much as you might with one of our competitors.
Add Your Custom Logo
Our unisex terry bathrobes with hoods represent the best in hospitality. Add your custom embroidered logo, emblem, or design on the front and your clients will feel like they are members of an elite club as they become immediately associated with your brand. If you have a boutique, they will be sure to buy one of their own to take home, remembering you long after their vacation, and recommending you to their friends.
The Ideal Promotional Item
If you want an exceptional promotional item, there is no better than a hooded terry cloth robe. As the ideal giveaway, your prospective clients will keep your brand in their psyches long after the event as a robe is something they will use everyday.
Contact Us
For more information on our exquisite, classically designed hooded terry bathrobes, please contact us today. We can be reached through our online form or by phone at (877) 421-6001.
Share this item with friends