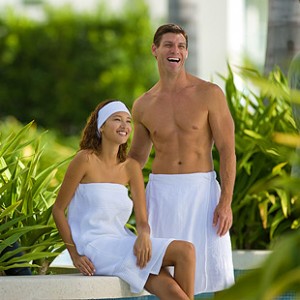 When is a towel wrap not a towel wrap? This is the question. And the answer is, when it is sourced by our expert production team and designed by our exceptional designers.
Ours Versus the Quotidian Version
It would appear to some who have not yet become familiar with our custom Velcro towel wrap that something as simple as a wrap-around towel could not be any more than just that. But think again, or better yet, try one of our custom towel wraps and you will discover that there is a vast difference between ours and the quotidian versions one finds elsewhere.
Living Up to the Highest Standards
A Boca Terry towel wrap is made of carefully sourced materials. Using only the best, we make sure that every fiber and every stitch is made to live up to the high standards that make our company as in-demand as it is.
The Pleasure of a Boca Terry Product
We're sure that if you've traveled and stayed in some of the finest hotels around the globe or visited a top-tier spa or casino, you have experienced our towels and bathrobes. You even may have had the pleasure of one of our towel wraps covering your body in just the perfect places to give you privacy and yet the freedom of uncovered legs and arms.
For Those Who Have No Idea
For those of you who have never tried a real towel wrap, we are happy to inform you that you have something quite surprising coming your way. We know you've all wrapped a towel around you for that quick transition from shower to changing room, pool to wet bar, or in other situations where you don't want to fuss with something more formal. Most of the time the towel gets soggy, and you spend most of your energy rewrapping it as it comes loose, which takes your attention away from other things at hand.
Staying Wrapped With Confidence
With a Boca Terry Velcro towel wrap you now can be wrapped as you would in a towel, but with a confidence like never before that once in place, it will always be in place, until you decide otherwise. This means you will stay wrapped as you sip a cocktail and chat with friends, doze on a lounge chair after a dip in the ocean, or walk confidently down the hall as you go from one spa treatment to another.
Never Letting You Down
A Boca Terry towel wrap will never let you down. With a Velcro closure, you can adjust it to fit as snugly as you wish, and with its perfectly sewn elasticized top area, you can move around freely without ever having to worry about slippage.
A Cut Above the Norm
Many of you already know that a Boca Terry product is many cuts above the norm. Sensual, cozy, comfortable, and beautifully sculpted to any figure or form, we pride ourselves on helping people feel like royalty, which of course, is what everyone deserves.
Our Exceptional Materials
Made of a sumptuous cotton blend consisting of 67% cotton and 13% poly waffle or of a 100% poly microfiber with a velvety French Terry lining, our towel wraps come in one-size-fits-all or can be ordered in plus sizes for those of you with a fuller form. We also carry an organic cotton version that is made from 100% natural seeds that have not been tampered with, either through genetic modification or by the use of pesticides, fungicides, bleach, or other harmful toxins.
Soft and Pleasing
We know how important it is to have something soft and pleasing next to your skin. If you are sensitive to fabrics and prone to rashes or other similar reactions, then our organic cotton towel wraps are made for you.
Created in the Perfect Length
Our Velcro towel wraps are created in the perfect length for men and women. The men's length is 24", from the waist down, and the woman's length is 32", from under the armpit to just above the knee, which provides the right amount of freedom when you don't want the bulk of a bathrobe.
Feeling Free and Easy
Our mission at Boca Terry is to make luxury items that allow our customers to feel free and easy while on vacation or at rest. We are always searching for better ways to accomplish this, and with our Velcro towel wraps, we feel we have done this with simplicity and elegance. It seems our clients agree, as the reorders keep coming in!
Order Directly Online
Fortunately for hotel, spa, cruise line, and other hospitality venue customers, we have a retail division that supplies individuals with the beautifully made products they have enjoyed while away from home. Now you can order our custom towel wraps directly from our online shop to use at home or to give out as gifts for your friends and family.
Customized with a Logo or Monogram
And more than this, you can have your Boca Terry wraps customized with a personalized logo or monogram that makes them even more special. Of course, if you are a hospitality client, like a hotel, bed & breakfast, spa, or casino for example, having your logo placed on any one of our products is the best way to advertise your brand while helping your guests feel like they are a part of your special club. If you're looking for a unique gift or way to celebrate a special event, such as a baby shower or wedding, we can also embroider a message, date, or monogram to help you commemorate the day.
Get in Touch Today
Take a look at our wholesale and retail merchandise by visiting our website today. Our Velcro towel wraps will entrance your guests if you are a hospitality establishment, delight potential customers if you are a promotions company, make you feel like a million dollars if you are an individual looking for at-home comfort and practicality, and honor your friends if you're looking for a special gift for those you care for.
Contact us today with our online form.
Share this item with friends