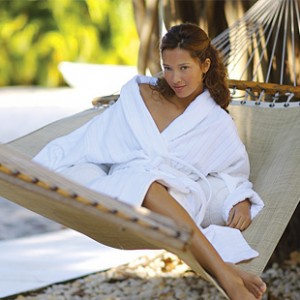 Voluptuous Velour
Velour is a plush, knitted fabric that is soft and sensual to the touch. It combines the best of both worlds with a stretchy quality, which allows for easier movement, and the tactile feel of velvet. Many adjectives come to mind when the word velour is mentioned, plush, sensual, soft, soothing, cozy, touchable and moveable are just a few. What all these words have in common is that they give an indication and sensation of comfort. Velour is a fabric that begs to be touched. With its slight sheen and tufted appearance any article made of velour speaks to an individual's desire for comfort and sensuality.
Functional and Fabulous
When choosing which items to offer the guests that frequent your hotel or spa, maintaining standards of excellence is very important and key to your business's legacy and reputation. Why offer your clients just any bathrobe when you can offer them a bathrobe that can be both functional and will create an absolute sensation of relaxation and luxury each time they slip into it? Boca Terry offers bathrobes made of luxurious 100% cotton velour that are sure to please even the most experienced bathrobe connoisseur. Nothing says comfort like being wrapped in a cozy, velour robe, snuggled up and enjoying the simple pleasure of relaxing.
 
Custom Company Image
When choosing the best bathrobe to compliment your hotel or spa's image and style, there are many ways to individualize your choices and make your company stand out amidst the crowd. Boca Terry offers customization options including customized designs and custom embroidery. There are endless design, fabric, thread and stitching combinations possible that will allow you as a hotel or spa owner to create a bathrobe that will please your guests while enhancing your company's overall image. You can rest assured that whatever choice you make, Boca Terry's bathrobes are quality-made, durable, fashionable products. With so many options in one place, the difficulty will be in making the choice, not in finding a suitable option for your company.
Choosing to Buy Wholesale
As a hotel or spa owner or manager who is looking to purchase products at wholesale prices, it is important to remember to look for sure indications of quality in the product and company providing the product. Just as velour offers the best of both worlds as a fabric, purchasing wholesale from Boca Terry offers the best of both worlds to you: top-quality products at the best prices. It is possible to have quality products and reasonable prices and that is exactly what Boca Terry offers to its customers.
Boca Terry is a South Florida based company that is committed to treating its discerning customers with absolute care, paying close attention to detail so that the customer can rest assured in the quality of product and service being received. Please contact us Toll-free at 1-877-421-6001 or locally at 954-312-4400 so that our customer service representatives can help you find the perfect luxury bathrobe for your spa or hotel. You can also contact us through our online form, which can be found at http://50.97.39.122/~bocaterry/contact-us.
Share this item with friends