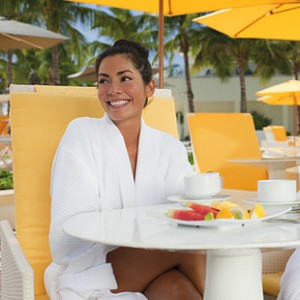 Velour luxury bathrobes are extraordinary, high-quality robes that can be used for many different leisure activities. Men and women use them poolside to cover up their bathing suits, or have them handy when they get out of a hot tub. People also use them before and after bathing or showering. They are a perfect way to keep warm on a chilly evening. They are even comfortable enough to wear around the house on a lazy Sunday morning. There is no wrong way to wear a velour luxury bathrobe. People like to wear them whenever they need a little coziness or coverage. These silky soft velour bathrobes are extremely versatile and attractive, and they perfectly fit the needs of any wearer.
When it comes to velour luxury bathrobes, people appreciate the soft fabric that provides a little warmth and a lot of comfort. Velour is an absorbent fabric. That makes it ideal for use at the spa or after personal grooming activities. These luxury bathrobes are painstakingly crafted from 100% combed cotton velour, one size fitting and flattering any and all. Large, oversize pockets add to the convenience of these bathrobes while convenient double belt loops make it possible to adjust the belt height for a custom fit. As a finishing touch, the robes have a hanger loop at the back of the neck, making them easy to hang on the back of a bathroom door, luxury always within reach. A monogram can be added for a personal flair.
Boca Terry's velour luxury bathrobes come in a variety of different designs and styles. The basic kimono bathrobe is available in velour as well as terry. This is a clean, simple and fresh design that looks good on anyone. The style is particularly flattering because of the way that it contours to the wearer. The basic kimono bathrobe comes in classic white.
The checkered bathrobes are another popular choice that comes in soft-combed cotton velour. They come in white or ecru and feature a unique pattern. Optional ribbing is available in white or navy blue on these checkered velour bathrobes.
Velour stripe bathrobes combine the classic look of a traditional bathrobe with a clean modern 1″ vertical stripe pattern that enhances the overall look. The length is 52″, to suit all heights. They come in classic white and ecru, and they feature a cozy roll-up shawl collar and cuffs.
Their versatility makes velour luxury bathrobes an excellent choice for a gift for any occasion. These luxurious robes are perfect as birthday presents, Mother's Day gifts, Father's Day gifts, Christmas gifts, anniversary presents or as a gift for newlyweds or new graduates. Classic white and ecru are perfect for both men and women. The belt and belt loops are made from the same soft, sturdy velour as the rest of the bathrobe for complete comfort that envelops the wearer. Boca Terry's dedication to luxury and excellence drives their customer service. Bring a touch of luxury to your life, no matter what day of the week it is.
For further information, please do not hesitate to contact us.
Share this item with friends