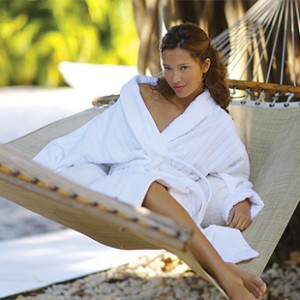 When it comes to comfort, there is nothing more enveloping than a plush, cuddly, absorbent velour bathrobe that wafts around your body in a sumptuous embrace. Getting out of the pool hot tub, or shower and draping one around your limbs can be done in grand Hollywood style or with the subtlety of a professional lounger, and either way you'll be basking in the warm, velvety luxury that high quality velour implies.
Our Boca Terry velour bathrobes are not only toasty, but also beautifully styled with a roll up collar that covers the throat and neck when you need extra warmth. In the same manner, its roll up cuffs allow you to drop the fabric down around your wrists, or push them up to bare your forearms as you dry off.
We take care to accommodate every body type with these delicious specimens, making them with a double belt loop that allows you to adjust the belt height according to your waist. The ample pockets are just the thing for putting your hands inside or keeping your keys or other essentials handy. A hangar loop on the back adds a thoughtful touch, providing an easy way to hang the robe when hooks are the only options around.
Made of 100% combed cotton velour, these paradigms of elegance come in a 1" vertical stripe pattern that goes all the way down its ample 52" length. Here again, with respect to all the body types that exist, we create our robes in plus sizes as needed.
Another of the beauties of ordering a Boca Terry velour bathrobe is in the many custom colors and designs you can choose, including special embroidery. Select your logo, emblem, or monograms, and you will have a robe as individual as your unique hospitality services.
Because we design and manufacture our wholesale bathrobes in factories throughout China, India, Pakistan, Turkey, and Columbia, there is no middleman involved to raise our costs. With impeccable sources from all over world, we offer not only the highest quality, but also warehouse direct prices for all of our merchandise.
When you order our wholesale robes, you are also purchasing years of experience. The knowledge we have accrued over the years when it comes to yarn purchase, weaving, washing and drying protocols, and durability has made us one of the top manufacturers in the field. Our distribution centers, located in Florida, Los Angeles, and Hong Kong allow us to ship anywhere in the world and have gained us a sterling reputation for being on time with our orders.
Our longstanding relationship with our fabric suppliers is another reason why we are able to keep our prices so reasonable. The Boca Terry velour bathrobes are a perfect example of an exquisite product that is both affordable and crafted to perfection.
Contact us today for more information on our warehouse direct prices via our form, which can be found at http://50.97.39.122/~bocaterry/contact-us or by calling 877.421.6001.
Share this item with friends