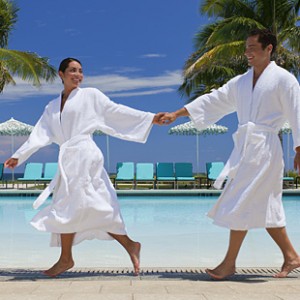 What Determines Luxury?
Luxury a word that is often thrown around but whose true meaning is rarely pondered or fully understood. Luxury has become synonymous with sumptuous living and a refined state that is above necessity. Isn't that the way that you want to make your customers, clients and guests feel when they visit your hotel or spa? Due to the constant state of business and the rush of day-to-day life, the word luxury has also come to mean something that is a bit self-indulgent, out of the norm for every day life. The stay at your hotel or spa should be a time when your guests can pull away from the rest of the world, and for the moment revel in an experience in which luxury is the norm.
Indulging in the Experience
Let your guests be free to indulge in the enjoyment of their stay. You want them to have an experience like no other. In fact, isn't that the only feeling that you want to provide for your guests and clients, an atmosphere of personalized luxury? By meeting your guests' simple needs in a luxurious way you can do just that. One way to ensure that they are always in a state of comfort is by having plenty of customized luxury bathrobes on hand.
Endless Possibilities
There are many options from which to choose. From the Basic Kimono bathrobe to the Velour Stripe Bathrobe, and everything in between there is truly a bathrobe for everyone. For that added touch of refinement, we also offer organic bathrobes, made from the finest 100% certified organic cotton velour or terry cloth. Also, many of the styles come in multiple sizes, from the standard one-size-fits-all to 4X, making it easy for you to find an appropriate robe for each of your guests.
Creating the Feeling of One of a Kind
A special feature that we offer is customization. Nothing says luxury like individual and unique, one of kind bathrobes. By choosing to have the bathrobes for your business monogrammed with your custom logo, you can create an identity and a status of luxury that will be hard to match. Your customers will know that they are at a prestigious location when they slip into a customized luxury bathrobe. And each time they slip the bathrobe on, your business's logo will be there as a reminder of the luxurious experience they are having.
Nothing Beats Luxury At Wholesale Prices
What could be better than finding just the right bathrobe for your business, except the ability to purchase that product at wholesale prices? At Boca Terry, we are proud to offer the best bathrobes, made with the highest quality fabrics and with the highest level of skilled craftsmanship, at the most affordable prices. We are ready and waiting to hear from you and help you choose the best bathrobe for you business. Please feel free to explore our website to learn more about each product, and then contact us Toll-free at 1-877-421-6001 or through our online form, which can be found at http://50.97.39.122/~bocaterry/contact-us.
Share this item with friends