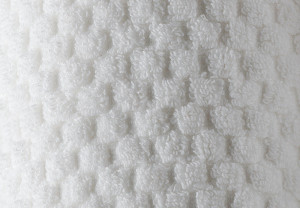 What is one of the key necessities you can't live without? Aside from food, clothing, and shelter, towels have always been a staple—and not just in the household. Hotels, spas, offices, even restaurants and airliners, utilize towels on a regular basis.
Before making a purchase, it's important to know what the main differences are between each product you're deciding on. At Boca Terry, we have two towel lines: the Sunny Lane Collection and the Resort Collection. Although both have a high quality makeup, they still have some minor differences.
Sizes for All
Before going over the differences, let's go over some of our collections' similarities. With such an imperative daily living product comes a variety of sizes to choose from. The use of towels doesn't just differ based on the fabric and design.
For instance, towels are often used in some restaurants or airlines in the form of small, hot and damp washcloths distributed to guests by a tong for the sake of hygiene before or after a meal. Both of our towel collections offer various sizes, which allows you to use them at home or for commercial purposes. The different size options you can choose from at Boca Terry include:
Wash Cloth – 13 X 13
Hand Towel – 16 X 30
Bath Mat – 22 X 30
Bath Towel – 27 X 54
Bath Sheet – 35 X 70
Boca Terry's two towel collections are made of 100% cotton terry. The production methods that set the nature of terrycloth apart from other fabrics, like velour, give it a stronger ability to withstand pulling and stretching. The towels' supreme quality offers both exceptional comfort and a unique and versatile aesthetic to go with practically any décor.
Distinct Lacquers
The Resort and Sunny Lane collections each have different terry finishes. Terrycloth is a fabric that's made of several loops of thread to maximize absorbency. The uncut loops of thread require double wrap yarn to create a number of tiny loops. Our towels' terry is woven in our factories in China.
With years of experience in the manufacturing industry, we've created these two towel collections to fit the preferences of our customers, while providing the utmost practicality. An overall check finish characterizes the Resort Collection, while the Sunny Lane Collection offers a sleek terry finish.
The differing textures maintain a high thread count regardless of their varying appeal. A high thread count offers superior softness and an amazing feel that's extra plush and wrinkle-resistant. This also makes the towels fluffy enough to provide warmth.
Classic or Contemporary?
Upon holding a Boca Terry towel, you will instantly notice how the base of the towel isn't visible as the different loops of thread cover it. Each towel is lightweight, yet a little heavier than it looks to provide maximum absorbency. That's one of the ways you can get a feel for the quality.
This means that you can use either one of our towel collections at your hotel/resort or spa and assure that your guests will be enwrapped in pure smoothness. It depends on how you've furnished your rooms and the overall theme you've implemented.
If you'd like to have more classic white terry towels, you should go with the Sunny Lane Collection. On the other hand, if you're furnishing a more modern space, the Resort Collection will also stunningly fit in. A dobby border adorns both of our collections to add more movement and a polished appearance.
Reminiscent to its name, the Sunny Lane Collection brings the positive energy of being out in the sun blended with a luxe edge, thanks to the details. Who said classic styles have to be dull and plain?
Just as the above collection brings positive energy, so does the Resort Collection. Seeing as how this particular line includes more checkered details, you can use it to add life to a more bare neutral setting. This can in turn save you from having to increase the number of extra items to enhance the décor.
That's not to say that the Sunny Lane Collection is too plain. If you want to step out of the classic white towel, you can go for our signature "Ecru" shade, a cousin of the color beige. Its universality allows you to match it with just about any tone.
A World of Possibilities
Although there are a few factors that set our towel collections apart, as you can see, they have more similarities than differences. You can personalize both collections and set custom designs and embroidery. Whether it's the monogram of your hotel name or an event-specific print, customize your towels to your liking. Get creative with which colors and design you'd like to use for customization. You can even mix towels from both our collections to create your ideal assortment.
Match your Boca Terry towels with either one of our bathrobe selections and assortment of spa accessories to make for a practical party gift or lush accessory that'll make you want to be in the water more often. The sky is the limit with how many mix and match options you can choose from.
Boca Terry's Lavish Touch
Our experienced creative consulting team works with different sorts of organizations spanning a variety of sizes to create their ideal towel collection. Contact Boca Terry today for more information about our different ultra comfy towel collections.
Share this item with friends