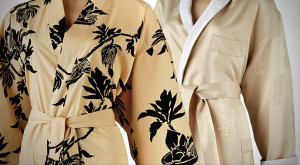 Getting the perfect bathrobes for your hotel is a must for keeping your guests coming back for more. A lot goes into deciding which bathrobes you should choose to properly exude your image.
You should look at the amenities your hotel has to offer along with what color(s) you would like to opt for. Bathrobes don't just differ in fabric; you should also consider which texture and length fits best at your lodge. Here are a few ideas that'll help give you the upper hand in selecting the best bathrobe range for your hotel.
Spruce up Your Business Hotels
Perhaps one of the most common types of hotels around, business hotels accommodate business travelers and are mostly located in business districts as well as downtown areas. If your hotel is classified under this category, then you're probably already aware of the fact that tour groups and individual tourists are also common guests.
For your business suites, opting for a microfiber bathrobe is an excellent choice to help your guests take a break from their long day at business meetings. Boca Terry's Microfiber bathrobe comes with a shawl collar and is composed of a blend of an 85% poly, 15% satin shell, matched with an 80% cotton, 20% poly soft French terry knit lining. Your guests can enjoy a luxurious appeal and royal-status comfort.
Make a Statement with Your Boutique Hotels
Currently the latest trend in the hotel industry, boutique hotels are generally smaller and are located in the more contemporary, fashionable parts of a city. Trendy spaces call for trendy amenities. The number of rooms in your boutique hotel can range from between 20-100, each containing the Knit Waffle bathrobe from Boca Terry.
Made of modal fibers (best known for their soft and rich attributes), these bathrobes have self-color piping around the cuffs and front, as well as a cozy roll-up collars and cuffs. Some styles are available in larger sizes, too. You can match your hotel's modern appeal to a modern bathrobe with or without a shawl collar.
Enhance the Luxe at Your Resort Hotels
Step into the larger side of lodging and you've got yourself a venue to explore more options. Resorts generally attract guests looking to reside in an exotic area outside of the regular urban areas.
Whether your resort hotel is situated on a mountain, island, or any other scenic area, you most likely offer recreational facilities along with locations for swimming, golfing, playing tennis or skiing. After a full day of activities—or rather, while partaking in such activities—it's only fitting for guests to have the right bathrobe hanging in their closet or bathroom.
Boca Terry's Basic Kimono bathrobe can do the job. Whether you prefer a terry bathrobe or a velour one, the Basic Kimono is made of 100% combed cotton and multi-needle stitching around the front pockets and cuffs. Generous pockets will allow your guests to go for a dive at the beach without losing track of their personal belongings.
Make Life Sweet at Your Suite Hotels
Whether your hotel is characterized as one offering extended-stay options or it has the classiest diversified rooms, suite hotels are well known for providing a separate living room and bedroom for guests. Your visitors either prefer residing in much larger spaces, or like having the option to entertain other guests in areas outside of the bedroom.
Providing guests with privacy and comfort are key to completing the feel of your suite hotel's rooms. The Mini Stripe bathrobe from Boca Terry comes with alternating ¼" stripes with cord edge piping and 100% combed cotton, as well, to give a lavish look and comfort. The adjustable belt height makes it convenient for guests to wear it based upon their contentment.
Give More than the Typical Bed and Breakfast
Guests choose bed and breakfast hotels for their "homey" ambience; as such houses tend to fit one to ten guest rooms. If you're a B&B owner, you can serve breakfast with a twist. Why not include a cozy bathrobe that'll help guests feel right at home?
Boca Terry's Satin Stripe bathrobe is lined with French terry knit and generous pockets along with a hanger loop for easier storage. You can either choose the shawl collar bathrobe or the kimono. Both styles will let your guests get a taste of home upon entering their rooms.
Offer Sky-High Relaxation at Your Airport Hotel
Even though guests usually go for a shorter stay at an airport hotel, it doesn't mean they shouldn't feel like they're floating on the clouds during their stay. The first thing your guests want before going on their flight or right after they arrive from a long flight is the ultimate pad to relax in.
Your visitors may just be staying for a layover or they may be victims of cancelled flights. Whatever the purpose of their visit, a bathrobe like Boca Terry's Micro Chamois bathrobe will put an instant smile on their faces.
These ultra soft bathrobes are lightweight and are as smooth as flannel. Their durability also comes in handy since they have to be washed constantly, due to the nature of the guests' shorter stay.
A Bathrobe for Any Lodging Space
Whether your hotel is large or small, has a spa or other recreational areas, or is located in or outside the city, Boca Terry's wide selection of stylish bathrobes can help you give your guests another reason to come back. With extensive manufacturing experience and a special eye for quality, Boca Terry specializes in bathrobes that both look and feel amazing.
We offer special wholesale pricing and different customization options. You can add custom embroidery with your hotel's logo, emblem or monogram. You can even throw in matching slippers and towels from Boca Terry to complete your selection and enhance your guests' stay.
For more information, call Boca Terry today to help you decide which bathrobes would make for an ideal accessory at your hotel.
Share this item with friends