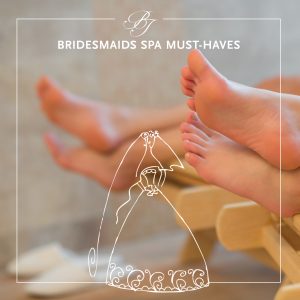 Choosing the perfect spa to host your epic bachelorette party is no walk in the park. An astute Maid of Honor who's aiming to please will hunt high and low for the best of the best, keeping in mind these 4 critical must-haves:
Got Room?
First and foremost, the ideal spa will have sufficient space to accommodate their entire group. While some brides prefer intimate outings with a handful of her BFFs, others are intent on inviting a couple dozen of their closest friends. If you can accommodate everyone and offer a large group discount, you're already in the running.
Atmosphere
Bridesmaids are expecting to treat the bride (and themselves) to a full day of luxury and pampering, so their spa of choice will have a charming location or vibe to set the right mood. Whether it's a primarily outdoor spa set amongst the vineyards of Napa Valley or an all-underground sauna built to resemble an Italian grotto, an alluring atmosphere is key.
Ample Amenities
A bridal party can only tolerate a steam room for so long… so the right spa must be able to provide a plethora of activities and amenities, including:
Health-conscious snacks
Gourmet catered lunches
Mimosas and cocktails
Magazines in the relaxation rooms
Massage and treatment packages
Unique services, such as sunning decks and solariums
Manicures and pedicures
Goodie bags for the attendees
Common Area
The perfect spa will have a comfortable common area, whether it's an indoor waterfall, a furnished lounge, or sprawling gardens with private villas. Once all of the ladies have had their deep tissue massages and mani-pedis, they'll likely want to gather here to chill out, clink champagne flutes and toast their bride-to-be.
Source: Spafinder Wellness 365
Share this item with friends