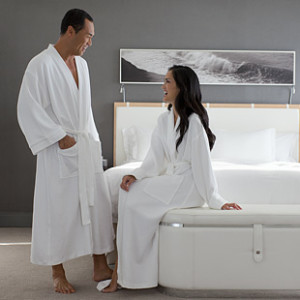 Buying a bathrobe is an art. While shopping, you might try on a number of styles, fabrics, and cuts to determine which robe best suits your taste. Purchasing wholesale bathrobes, however, is an even more challenging art. When choosing an item for a large group of people, there are a lot of factors to take into consideration. To gain a greater understanding of this process, follow Boca Terry's tips!
Keep the Wearer in Mind
With so many styles, sizes, and materials on the market, it is crucial to determine what your target market is looking for. If you want to "wow" your customers and have them raving about your company to friends, you need to offer unbeatable amenities, including the perfect bathrobe.
Don't be surprised if guests book their second (or third) stay after spending a day using a plush, fluffy, complimentary in-room bathrobe. By carefully choosing amenities catered to your target market's interests, you have a high chance of seeing happy guests recommending your establishment to others and become returning guests, themselves.
Remember: Durability Determines Product Life
Save your time and energy: stop investing in cheaply-manufactured, wholesale robes made from thin, fragile materials—they will never last. What buyers really need to invest in is a product made from strong, durable, high quality materials that are bound to last for several years.
Choose Your Fabric
Durability and product life relates to fabric choice and fabric quality. When choosing wholesale bathrobes, it is crucial to understand that certain fibers last much longer than others. For example, 100% combed cotton is a long-lasting material. When cotton is combed, the thin, wiry fibers are removed from the thread. This process leaves only strong, durable fibers, creating a higher quality product.
Combed cotton isn't our only claim to fame, though. Boca Terry's Knit Waffle Bathrobe is crafted from modal fibers. Surprise—modal fiber bathrobes will last even longer than our robes made from nature's durable concoction, cotton! Not to mention, modal fibers are three times softer than cotton, which ensures comfort and pampering for the wearer.
Comfort Matters
That brings us to this point: comfort probably the single most important factor when purchasing wholesale robes. Consider this—there is no need to purchase an abundance of robes if they are not comfortable; Robes are made for comfort. When a robe doesn't feel good, your guests will refuse to wear them, meaning your investment was a waste of money (and storage space)! Choosing a well-crafted, comfortable robe is your best way to keep visitors happy.
Consider the Climate
In order to find a truly comfortable bathrobe, you must consider the region and season in which this product will be used. As you might guess, purchasing bathrobes for a resort in Jamaica is a different process than purchasing bathrobes for a cruise to Alaska. Purchasing managers should always take the climate of their establishment into consideration when picking the perfect product.
Undergo the Quest for Quality
You might be thinking to yourself, "A robe is just a robe. It makes no difference what it looks like or how it feels. You don't wear them in public." However, we don't agree with that thought process. Quality always matters when you are providing services to customers. In the age of online ratings, it is important to consider your guests' comments, concerns, and desires. Avoid low, business-harming ratings by providing only the best for your clients.
Be Picky—it's Worth It
When it comes to bathrobes, your guests might be incredibly picky; that is why we suggest that you are, too. To ensure customers are satisfied with your choice, keep their best interest in mind. The quality of amenities offered directly correlates to how valued your customers will feel. That means it is important to provide your guests with high quality, well-crafted, exquisitely made products. Once you begin to understand more about how our carefully crafted designs are created in a meticulous manufacturing process, you will begin to see the difference, too.
What Makes Us Different
Boca Terry takes full ownership of the design and manufacturing of each of its wholesale bathrobe and spa accessory products. All fabric utilized for Boca Terry bathrobes and spa products are woven at our factories. From years of expertise in the manufacturing industry, Boca Terry has refined its manufacturing process down to a science with meticulous fabric research for quality, unique design for innovation, sample making and systematic lab testing. Who else on the market offers such a highly detailed process?
Perfect Price
Another important piece of information to keep in mind is price. Because we have fostered careful, trusting, ongoing relationships with our manufacturers, we are able to provide our quality products at competitive pricing. Direct access to the factories ensures that there are no middle men involved when it comes to cost.
How Soon is the Product Needed?
Buyers should consider how quickly they need a product before committing to buy from a supplier. Because we have several shipping centers in the United States, along with locations outside of the country, we are able to ship items quickly and efficiently.
Range of Sizes
Sometimes, one size doesn't fit all. Though, we believe in the validation of all guests; by providing guests with various sizes of robes, they will feel comfortable in their own skin—even when they want to cover it with a cozy bathrobe.
Need an Organic Option?
Many companies take great pride in their environmental efforts and natural services. We are here to promote this effort with our organic bathrobes. Made from 100% certified organic cotton, free of pesticides, chemicals, dyes, and detergents, our organic bathrobes are a great option for eco-friendly companies.
Boca Terry's Great Products
This list of things to consider is endless, but so are the options from Boca Terry. We have a number of bathrobes to choose from, depending on your interests! Once you determine what you are looking for, it's time to order! If you have questions about our high-quality products, about our wholesale pricing, or to order our products in bulk, contact us, now!
Share this item with friends