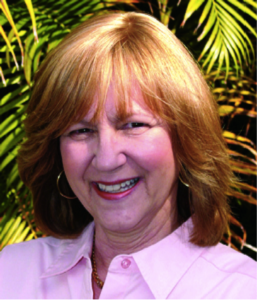 Individuals who have amassed enough wealth to purchase a mega-yacht are people who also appreciate and expect the highest quality. This is a guiding principle of yacht broker Judy Waldman. Her lengthy experience in the boating industry, as both a yacht owner and a broker, allows her to ensure that every client can fulfill their dreams and get the service that they demand – but not without a commitment to certain standards. She shares her wisdom and experience in the industry here.
So, where did you grow up and did your family have a boat as a child?
I grew up in Memphis, Tennessee and my father was a fisherman who truly loved the outdoors. My sisters and I grew up fishing on the Mississippi River. Our family had an aluminum boat that we strapped onto to the station wagon! Those were wonderful family times that helped me gain an appreciation for the quality of family time and for the water. It was also a great thing to have a natural ability to catch a fish and cook it up for dinner!
Who has been your role model?
Both of my parents were great role models for me. My mother is a true southern lady, gracious, kind, and warmhearted. Daddy was an outdoorsman who loved nature and astronomy. We had many adventures; we would go exploring in the woods, drive out on a country road to sit and look up at the stars. Since it was only myself and my sisters, he taught us all the things I think he would have taught his son. I inherited his love for the outdoors.
When did you get started in the boating industry?
I had a boat my entire adult life. I lived in Arizona for a long time and my first husband was a sailor. When we were getting married, he was in the process of having a Palmer Johnson (76 foot) built. We cruised from Maine to every island in the Caribbean, to Alaska, all over! Our last boat was a 100-foot motor sailor. I was blessed to have a lot of experience and to spend time on luxurious yachts. When I remarried, my new husband also had a boat and our biggest argument was whose boat we would keep!
Our daughter, who is now 21, has Down's Syndrome and we had a lot of medical bills, etc. I needed to ensure that she would have the best quality of life so I decided to become a yacht broker.
What inspired you to own a yacht company?
I came into the brokerage world with an owner's mindset. I was the only yacht broker in the world that had the previous experience of being a mega yacht owner, so I was not intimidated by wealth or impressed by it. I was fortunate to have that experience and the mindset and could come at the position from an owner's point of view.
After working for other brokerage companies, I realized that I didn't like the way they did business. I needed to be able to give the time and attention to each client, to be able to tell a client when to walk away from a boat or if they shouldn't own a boat, to give them my level of integrity. I founded JW yachts in 2000.
What does your company do that differs from similar companies?
What's different is my priority in matching the buyer with the boat. If a client sees a boat online or in an ad, the broker does his or her best to sell them that boat. I try to educate and direct them. Educating the client is still key, I give them as much knowledge and information [as I can], and my opinions so they make an educated decision, so they are not railroaded into making a decision.
What do you love most about what you do?
Aside from providing for my daughter, I love the sea trails and surveys. I like educating the buyers and I like seeing dreams fulfilled. My clients are wealthy, they've got their kids' college paid for, they're well set financially and now they are at the point in life that they can afford a yacht, for fun, for exploring. It's on their wish list, their bucket list. I don't do anything altruistic, but I can help people fulfill their dream. It is great to see that smile, that sparkle and getting that email later, hearing what island they just discovered, how they are enjoying the boat, how their family is enjoying the boat.
What part of your job gives you the most satisfaction every day?
Seeing wishes fulfilled!
What are some of the challenges that you face running this company day-to-day?
Sometimes people are their own stumbling blocks, they find a reason to talk themselves out of every boat. I call it paralysis by analysis! When I can see … it's the right boat, the perfect match and they talk themselves out of it, that's frustrating. They have the dream, but never will fulfill it.
As a business owner, I am very type A personality, very detailed and precise, and have learned over the years that I can't expect others to operate at the same level. It is frustrating for me when boat repair people or others don't show up when they're supposed to, but I have come to accept that I can't always  control all of the outside factors.
Do you have a mantra or philosophy that you live and work by?
My number one priority is honesty. I give each client 100% no matter the price of the boat, no matter if they are a buyer or a seller. I disclose everything about the boat and about the business that they need to know as a participant. Above board, there's a level of integrity that I expect and they should expect. I don't exaggerate, I don't tell lies. I give information, and my opinion is based on being in the business for 20 years and having sold 175 yachts.
Why did you choose Boca Terry when you were looking for robes for your business?
My clients are all wealthy people. They have nice houses, nice furniture, vehicles, jewelry, and they like being surrounded by quality. I give the robes as a gift for the buyer, and I provide enough robes for however many people there will be on their boat or the number of staterooms on the yacht. I have the yacht name embroidered on the robe and sometimes I buy for the sellers too as a thank you. These are people who understand and want quality and I want to give them the best quality robes that I know of.
How has your experience been working with Boca Terry and how have their products been received by your clients?
I have gotten incredible thank you letters and emails from owners thanking me for the robes. I have had owners ask me if they have to leave the robes on the boat if they sell it! Many of them want to know how they can get more. These robes are the focal point of the yacht experience.
Boca Terry has been great to work with. I started ordering from them when I opened in 2000, and many of the same employees are still there after 16 years! This really speaks well for the company. Laura, Edward, Jennifer, and Jason are all still there and they know me – they know my needs and they make suggestions. They are great about taking care of my orders and are professional with a real personal touch. Boca Terry has never been late, never messed up an order, and have never refused to take care of my requests. I am most appreciative for their expertise and follow through.
 What do you think the Boca Terry Robes add to your business and service level?
It adds a personal touch to my business. I don't know if my clients expect a gift, but I know they don't envision walking onto to their boat on the first day of ownership to find these luxurious robes hanging or laid out. It's always a surprise and always a special treat. And because I've had the name of the yacht embroidered on the robes, it's like the certification that "YES, this is my boat, this is my yacht!" And that's why they frequently ask where they can get more to take home.
If you had to choose, which of Boca Terry's robes would be your favorite and why?
I almost always order the seashell robe – the design is reminiscent of a beach. And when I give the gift, I place the robes on the yachts and include a thank you for giving me their trust and confidence in such a significant purchase. I tell them to enjoy the robes. Whether they're using them on an exotic beach or while having coffee on the deck, or sipping champagne at night as they are looking at the stars, the Boca robes are just perfect. They're also easy to wash and most appropriate for the clients I have. I do have a lot of clients in Canada or Europe, and for them I go for the terry robes or fiber materials, depending on the climates they will be spending time in.
How does offering luxurious Boca Terry robes differentiate your company from others?
I think many brokers give gifts to their clients, but most of them give champagne, wine, gift certificates, etc. Those gifts are gone once they are used. They don't last, but these robes are everlasting, fond mementos, a lasting gift. And when they are luxuriating in their robes and living the dream, I think they will think about me with a smile!
Share this item with friends