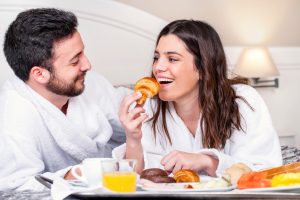 It's a quality that discerning guests will appreciate
When it comes to bathrobes, it can be very easy to get enamored with appearance. People always want their robe to look good (and look good on them). And while style is important, it isn't the only crucial feature of a bathrobe. After all, a robe is also often intended to be functional – with the ultimate goal of getting someone dry – and this is why absorbency matters.
The benefits of absorbency
There's something sort of regal about getting out of a shower, bath, or pool and slipping on a robe. Instead of drying off with a towel, there's a feeling of elegance when the robe does all the work. This is where the absorbency level of the material makes all the difference.
If a guest plans on using the robe as a towel, absorbent materials will soak up water quickly and effectively. And if the robe is worn outside in warmer temperatures – for instance, lounging on the balcony of their hotel room or sipping a drink on the pool deck – an absorbent robe will wick away both water and perspiration, keeping the wearer dry and comfortable. It takes a while to get dry in a robe made of low-quality material, and guests will usually need to reach for a towel.
To figure out how absorbent a material is, it is given a number from 1 to 5 on the absorbency scale. Materials such as terry and velour, for example, have an absorbency level of 5, which make them excellent guest bathrobes.
The most absorbent Boca Terry bathrobes
Boca Terry has an assortment of robes in very absorbent materials. Our Basic Kimono comes in both terry and velour. They include double belt loops, large pockets, and a hanger loop to make storage easier.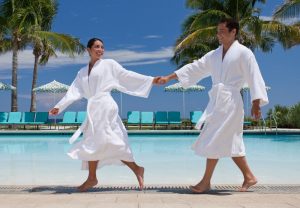 We also have a Velour Stripe bathrobe made with 100 percent combed cotton velour. It includes cozy roll-up collars and cuffs, big pockets, and belt loops that allow the belt height to be adjusted.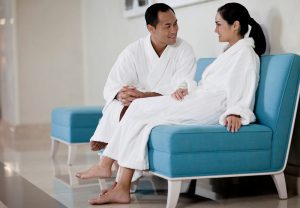 Microfiber is another material that has a great absorbency level, rating a 4 on the scale. Our microfiber bathrobes are lined with French terry knit, which makes them extra soft and luxurious.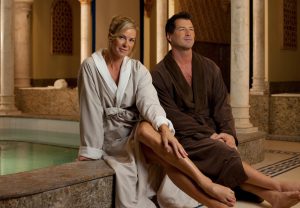 When purchasing bathrobes, make sure you don't get fixated on appearance or durability alone. Absorbency is a feature that is inherent to the highest-quality robes used in the hospitality industry. It's a small but important detail that adds another level of comfort and luxury to your guest's experience – and one that helps ensure that they remember your property fondly when they make plans to visit again.
To see the entire line of Boca Terry bathrobes, you can peruse our selection. And to request a quote or ask any questions about our wholesale pricing, please fill out our online contact form.
Share this item with friends