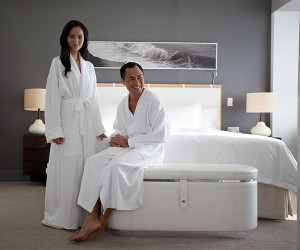 When it comes to bathrobes, luxury is always an important factor. We have all had the unfortunate experience of feeling a less-than-comfortable bargain brand bathrobe at some point or another. Cheaper options might be more itchy, dry and dull—while a luxury bathrobe is plush, soft and extremely cozy. It's not a question of which your guests will prefer but, rather, what you are going to offer.
But, how are you going to find a luxury bathrobe if you don't know what you are looking for? You'll want to follow Boca Terry's guidelines for finding a luxury bathrobe that is worth investing in. Learn more now!
Quality Materials
A luxury bathrobe should be made from a collection of the finest, yet most effective materials and fabrics available. Our teams are dedicated to offering our customers the best. We source top products from across the globe in order to produce the finest bathrobes, towels and spa accessories available.
Did you know that all fabric utilized for Boca Terry bathrobes and spa products are woven at our factories, totally vertical from yarn purchase through weaving?
Our longstanding relationships with fabric suppliers enable Boca Terry to continue to acquire the best quality product and well-executed production in the world at competitive pricing. Our ability to make these guarantees is a direct result of our company's relationships directly with the factories—which is something that many of our competitors don't construct.
Top Quality Manufacturing
Thanks to a number of years of expertise in the manufacturing industry, we have been able to refine our manufacturing process down to a science with meticulous fabric research for quality, unique design for innovation, sample-making and systematic lab testing.
That means that we can test each item along the way to ensure that manufacturing is going smoothly, effectively, and at the highest quality. Not only do we use quality materials, but we also enlist staff to ensure that the manufacturing meets our standards as well.
Affordable Pricing
Although luxury brands have a tendency to price their items higher, any companies who choose to offer more affordable pricing are worth supporting. That is because these are the brands that put customers' needs first.
How can luxury brands offer affordable pricing? Follow Boca Terry's example: Boca Terry takes full ownership of the design and manufacturing of each of its wholesale bathrobe and spa accessory products.
Our direct access to the factories ensures that there are no middlemen involved—lowering our prices when it comes to cost. Like we stated before, we source product from all over the world, which enables us to come up with the quality standards and competitive pricing that is essential in today's economy.
Fast Shipping
Manufacturing high quality bathrobes, towels, and spa accessories is not the only part of our manufacturing processes that make Boca Terry stand apart from its competitors. Developing the products are only a piece of the equation, guaranteed supply distribution of wholesale cotton products worldwide is also one of our specialties.
There's no use in finding all of the best products available and manufacturing excellent products if it takes customers months to receive them! Fast shipping is another important factor when a company chooses to invest in high quality bathrobes.
That is why we have set up a well-stocked distribution center in South Florida. Our distribution center is capable of shipping anywhere in the world on time and with care—which is part of the beauty of owning and operating your own manufacturing services.
Our Favorite Boca Terry Bathrobes
The following is a selection of some of our favorite high quality bathrobes that we believe you should consider investing in.
Checkered Bathrobe
Mini Stripe
Microfiber
Shawl Waffle
And more! Check our site for more excellent options.
Better Bathrobes from Boca Terry
Until you have tried Boca Terry, you don't know the Boca Terry difference. Now is the right time to start testing and investing in top quality, affordable, luxury products to bring your establishment up a notch.
Ready to get started? Contact us today for a price quote or to place an order with us!
Share this item with friends