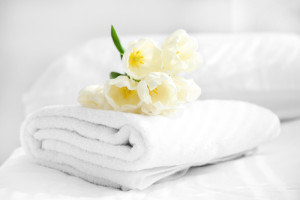 Your guests' stay at your hotel should make them feel like they've opened the doors to their dream getaway. With competition being set on the rise in the hospitality industry, the bar has been set high for each hotel—regardless of its type or size—to satisfy its customers by placing comfort at the top of the priority spectrum.
The Perfect Garments 
When you're looking for different ways to make your hotel stand out among the rest, enhance your guests' wardrobe to make it as comfortable as possible. There are different pieces that will make your guests never want to go anywhere else. 
Bathrobes are absolute essentials when it comes to making every guest feel special, and nothing can compare to the warm and snug hug of a flexible robe that can be worn in an assortment of locations. To offer the highest level of comfort in your hotel, start with finding a luxurious bathrobe selection that will suit your hotel's setting and amenities.
The key is to opt for a bathrobe that your guests can use in and out of their rooms. For instance, if your hotel is situated by the beach or it has a private pool area, you should go for a terry or velour bathrobe with an absorbent nature so your guests can easily dry off or use it as a convenient swimsuit cover-up. Guests can use their bathrobe in their rooms to lounge around and enjoy their room service in, too.
It's amazing how paying attention to the smallest details can make all the difference in your rooms' aesthetics, which in turn, can greatly affect a guest's mood upon entering their room. That's where the convenience of having soft towels readily available comes in.
To ensure that your guests won't have any trouble maneuvering around their bathrooms, be sure to have different sized towels, such as the following, set on the racks:
Bath mat
Bath towel
Bath sheet
Hand towel
Wash cloth

Don't forget to opt for fabric textures that will match your hotel's interior deign theme(s). Whether your rooms have a more contemporary atmosphere or a more classic fervor, make sure the towels' textures and colors are consistent with the rooms' décor.
Whether or not your hotel features a renowned a spa, let your guests feel pampered at all times with the right subtle accents—and we're not just talking about the customary shower cap and sewing kit. Along with the soaps, massage oils, and lotions, look into a skid-proof pair of slippers to match your guests' bathrobes.
Slippers fall under the "fundamentals" category, as well, since they can be worn outside of the guestrooms, too. If your visitors were spending a relaxing day at the hotel spa, a one-size-fits-all headband with a Velcro closure would help maximize their experience as they get a facial.
Moreover, rather than having a regular towel available, you can top off the practicality dynamic with a useful spa wrap that secures with a few snaps. Perfect for using by the Jacuzzi or steam room, the wrap will help your guests make their way in and out of their spa treatments.
A Focus on Durability
Once you have the wardrobe selected, you should look at each piece's quality. With the hotel industry's high standards for cleanliness comes the need for garment materials that can withstand numerous wash cycles.
To get the most out of the amount you spend on your wholesale order, make sure that the quality of your items is extremely high. That way, you won't have to worry about updating your purchase and having to spend over your budget. Strong materials that offer a longer lifespan will allow you to spend more on other improvements.
Maintenance of Guests' Preferences
Having all of the above under your sleeves trickles down to what customer satisfaction is all about—giving your guests what they need, when they need it. For one, each customer has a unique silhouette. Some may require a plus size robe, for example, while others may be fine with a one-size-fits-all choice.
Selecting one-size-fits-all unisex bathrobes is a great way to cater to the taste of both men and women without having to spend more on a separate order. In addition, some guests might be sensitive to certain fabrics or have allergies, and prefer to go green when it comes to what they wear. If that's the case, or if your hotel is an eco-friendly institution, then you should choose organic bathrobes.
Customization Options 
You can accommodate your guests with first tier luxury while augmenting your brand awareness. Check for whether or not you can personalize your hotel apparel orders with custom embroidery to feature your hotel shades, emblem and/or monogram. This will add an extra unique touch to every piece you decide to enhance your guests' visit with.
Find the Right Vendor
To purchase all of the garments mentioned above at a competitive wholesale price, you should search for a vendor that can provide you with all of the different categories of products without the need for any middlemen. At Boca Terry, you can find a wide selection of high quality bathrobes, towels, and spa accessories that are designed and manufactured in our factories.
We pride ourselves in being perfectionists and make sure that every product that leaves the doors of our factories meets industry standards and the expectations of our clients. With years of experience in the manufacturing industry, Boca Terry has guaranteed the supply distribution of top-notch products around the globe. Our long-term relationship with fabric suppliers has allowed us to get the best quality items at reasonable prices.
Contact Boca Terry 
For more information on Boca Terry's large assortment of must-have hotel attire, give us a call today and we'll be more than happy to go over our different options with you.
Share this item with friends