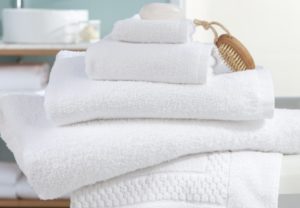 There's something about growth in business that speaks to us. When a company chooses to pursue bigger and better things — especially when they put the customers' best interests at the center of their business model and create goals accordingly — that's a value we appreciate.
And growth has been on our minds a lot lately. That's because we're announcing that Boca Terry has a brand new hospitality industry towel line in the works. And we couldn't be more excited about it.
Famous businesswoman and entrepreneur Barbara Corcoran once said, "Don't you dare underestimate the power of your own instinct." And here at Boca Terry, our instinct told us we need to keep progressing and innovating for our fans and customers. For you. Wondering what that might look like? Here's what we have in mind so far:
Though we still offer both the Resort and Sunny Lane towel collections, the time has come to expand our line. Although the final product is still in the works, the new line will be luxurious, affordable, and targeted to support our partners in the hospitality industry. We are presently reviewing our options with a new factory in India. And if things go according to plan, this potential partnership could give us the ability to open up great opportunities for our present customers.
That's because we plan on maintaining the high quality of our products and, if possible, reducing the cost — a savings that we always pass along to our customers. So, not only is our new line in the works, but we are looking for ways for you to get your hands on it more affordably than ever.
Are you looking to improve your resort or hotel and are interested in learning more about our product line expansion, our potential new partnership, or any of our current products? Please reach out to us directly to inquire about what we can offer. Don't be shy! Send a quick reply to our newsletter or contact us here to discuss these exciting new possibilities. We hope to hear from you!
Share this item with friends