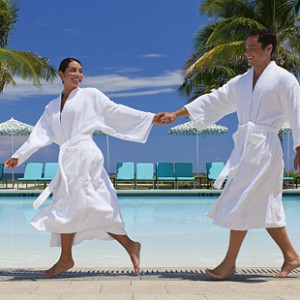 One's bathrobe is a very personal thing. Most people have their own preferences when it comes to the bathrobe they wear to and from the shower. Many want them to be comfortable enough to lounge in around the house or in their hotel room. There are several factors to consider when choosing a bathrobe.
1. Style
The general public will never see someone in his bathrobe, but it is still important for him to be happy with the style and design. Boca Terry, a luxury bathrobe retailer, sees how essential this is. They have a full line of beautiful designs. Most people think of the basic kimono when they are searching for a bathrobe, but this company goes far beyond the common design.
The kimono style is available, but it also comes in a waffle design and pink satin. Boca Terry offers the classic shawl collar in several designs. They have great variety of less traditional materials including velour, microterry and micro chamois. A lovely mini stripe gives a unique design to their shawl collar and kimono styles. For the cold weather months, a fleece robe is also available.
2. Comfort
While many want a nice-looking bathrobe, comfort is usually the number one concern. All the materials that make up the beautiful designs mentioned above also provide a variety of comfort levels. Boca Terry's website mentions each bathrobe with its material and weight. This makes it much easier to choose a favorite robe. Some of the bathrobes come in different sizes, and some are one size fits all. This may affect the comfort level as well.
3. Quality
Though style and comfort are important, neither will matter if the bathrobe falls apart. Boca Terry prides itself on superior quality. Since it is a provider of spas and hotels and luxury resorts, this company finds it necessary to keep its products luxurious and long-lasting. Many materials are 100% combed cotton. Boca Terry also offers organic products for those concerned with the environment and health.
4. Cost
One might think that a beautiful style, luxurious comfort and premium quality would come with a high price tag. The unique thing about Boca Terry is its wholesale pricing. Hotels, spas and resorts can contact them directly for pricing on their own unique needs for bathrobes and other luxury comfort items. Individuals can also order at a special cost.
5. Uniqueness
Boca Terry makes sure that each individual can have a bathrobe like no one else. It will design a custom print or style for clients. The company also does custom embroidery with custom personalization, logos and emblems. This is a great way to make sure the bathrobe is perfectly tailored for the individual or organization that purchases it.
To create your custom bathrobe, please visit www.bocaterry.com. To contact a customer service agent by phone, dial 954.312.4410. They can also be contacted toll free by phone at 877.421.6001, extension 210 or by fax at 866.530.9743. You can also contact Boca Terry by mail.
Share this item with friends