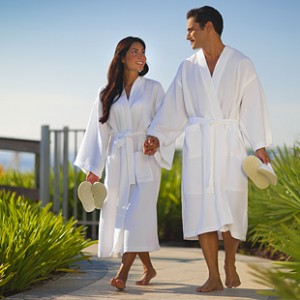 With over 50 years of combined staff experience, at Boca Terry can safely brag that we have a complete understanding of the manufacturing and textile industry from top to bottom.  Our primary distribution centers are based in Florida, to cover our East Coast clients; Los Angeles for the west; and Hong Kong, to cover the rest of the world, which enables us to easily send merchandise anywhere for a perfectly on-time arrival.
Top Quality at Affordable Prices
Our reputation in the hospitality industry has kept us in the premier position as a leader in the field. Supplying resorts, spas, hotels, bed and breakfasts, cruise lines, and specialty customers with luxury bathrobes, we are able to keep our top quality items at an extremely affordable price because we ship factory direct, which means there is no middleman to drive up prices.
Impeccable Shipments with Every Order
At Boca Terry, we are committed to making sure that every wholesale item is thoroughly inspected as if it were one of a kind. This means that you get nothing less than an impeccable shipment with every order you make.
Waffle Weave Bathrobes
One of the most in-demand styles we offer is our exceptionally crafted Waffle Weave. Providing the utmost in warmth without bulk, each waffle square works like a tiny sponge, wicking away moisture to leave the skin dry and soft.
The waffle robes are extremely popular with spas as their lightness and absorbency helps the skin drink up oils and creams. Draping yourself in a waffle weave in between treatments is the ultimate in sensual pleasure, as the robe wraps around to contain you in its cozy embrace.
The Beauty of a Boca Terry Robe
The beauty of our Boca Terry robes is that they are designed as one-size-fits-all, with specialty orders for plus sizes always available. Created with double belt loops that allow you to adjust for weight height, a loop on the back for easy hanging out to dry, and deep pockets that keep hands warm or small items safe, they are as stylish on a man's body as they are on a woman's.
Saving Money While Finding Excellence
Buying a waffle bathrobe for your hotel directly from the distributor is an ideal way to save money and assure that you get a robe that matches the attention to excellence that is inherent in your brand's reputation. Created according to the highest in industry standards, Boca Terry waffle bathrobes are one of our signature pieces that define relaxation and comfort.
Here are some of the waffle styles that are available for order:
The Kimono Waffle
Large diamonds or seashell panels form the pattern for this kimono wrap robe. Creating a streamline, Zen like silhouette, this style is the utmost in simplicity and elegance. Made of 100% cotton or a blend of 67% cotton and 33 % polyester, you can order it with optional color piping that matches the color of your establishment.
The Knit Waffle
Created in kimono or shawl collar style, this robe provides a plush sensation as it is made of 45% modal fibers, 45% cotton, and 10% polyester. With exquisitely stitched piping around the cuffs and front area, the shawl style includes a roll up collar and cuffs and measures 52 " long. The streamlined kimono model measures 48" long.
The Organic Lightweight Waffle
Made of 100% natural organic cotton fibers, this is the robe you want to have for a completely holistic feeling. Perfect for luxury spas dedicated to holistic practices, this robe pays attention to environmentally friendly harvesting practices, as well as the health of the wearer, as the cotton is grown without the use of pesticides and other harmful elements.  Forth-eight inches long with a 17" sleeve, you will feel as natural as the day you were born with this beautiful robe draped around you.
Quality that Stands the Test of Time
From design to manufacture, Boca Terry is proud of every facet of our production and styling. Our factories in China, Columbia, India, Pakistan, and Turkey use the most up-to-date processes when it comes to weaving, sewing, and crafting in general, with every piece we create tested for durability. With the countless launderings that robes must endure, we can guarantee that ours stand the test of time when the proper laundering techniques are used.
Our Experienced Design Experts
One of the great benefits you get from Boca Terry, besides the cost and quality advantage of buying direct from us, is the use of our design experts. Our expert consulting service can help you to enhance your brand with custom embroidered logo or emblem, as well as with color choices and other distinctive designs.
Robes for Special Occasions
If you need robes for special occasions, we can help you select from our catalogue or custom create a look that corresponds to the event. Whether it is a honeymoon, engagement, special business party, or anything else, Boca Terry is ready to help you provide your clients with something unique and special.
Classic Designs That Are Always on Trend
Many of our hotel clients have opened boutique shops or online stores to provide their guests with some of their specialty items. Our robes figure prominently with classic designs that are always on trend.
Contact Us Today
For more information on buying waffle bathrobes for your hotel, spa, bed and breakfast, or other establishment, please contact us through our online form or by calling (877) 421-6001.
Share this item with friends