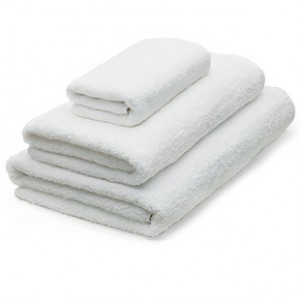 Human beings have five senses for a reason. When the urgent business of life takes a pause, sensory pleasures can go a long way toward restoring equilibrium and preparing for the next day's struggle. Among these pleasures, few are as simple and healthful as a hot bath or brisk shower, followed by the warm embrace of a thick, soft luxury bath towel.
What contributes to the making of a magical towel? Boca Terry founders Bruce and Edward Cohen source their products from the finest cottons found all around the world. They look for the longest possible staples, or loops, that provide the best combination of durability and absorption. As experienced manufacturers, Bruce and Edward knew they and their customers did not want to deal with middlemen. Consequently, they built Boca Terry as a vertical enterprise, in which every step of the manufacturing process, from buying yarn to the finished product, is planned and performed at the same standard of excellence.
At a hotel or resort, luxury bath towels subtly congratulate guests on their wise choice of lodging. Unlike bed linens, towels do not come with a thread count, making the end user the final arbiter of quality. A hotelier who guarantees that sheets will have high thread counts is in essence obligated to offer the same level of quality across the board, and that extends of course to bath towels.
Owners and operators of upscale health spas seek to convey an image that is both active and peaceful. Few products fit that niche as well as Boca Terry luxury bath towels. After a vigorous workout, a yoga session or an hour-long massage, the enveloping warmth of a Boca Terry towel rewards spa clients and reinforces wellness.
Similarly, owners of vacation rentals convey an extra degree of care toward their guests when they furnish their properties with luxury bath towels. Boca Terry retails towels as well, so that individual homeowners may relive blissful holidays while treating themselves and their visitors to the some of the finest bath linens available.
Every Boca Terry product can be customized to a buyer's needs, with all monogramming, logo placement, and embroidery taking place in their South Florida headquarters. Boca Terry's Resort Collection, with its dimpled weave, offers a spa-oriented consciousness, while Sunny Lane, as the name implies, suggests the comforts of an unhurried existence. Of course, Boca Terry offers a wide range of accessories, including robes and slippers, to complete the impression of opulence.
Few items betray an attempt to cut corners as clearly as towels that stain, pill, and leave the user still dripping. On the other hand, those with genuine solicitude for guests, family, and friends will upgrade to Boca Terry, and watch the compliments and good reviews accumulate. Visit Bocaterry.com today, and prepared to be awed by the sheer sumptuousness of their goods. Patronized by the Ritz Carlton and other top names of our times, Boca Terry towels offer a unique combination of beauty, elegance, and utility.
If you are looking further information or have any questions, please do not hesitate to contact us. It is our pleasure to help you.
Share this item with friends