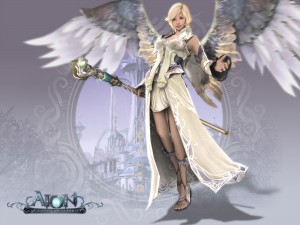 MapleStory, the online kid-friendly game that puts you in a free-to-play fantasy land with custom characters and fascinating creatures, boasts over 92 million world-wide players, according to Wired.com.
The best prize in MapleStory:  the MapleStory bathrobe, either for men or women, noting that only men can buy men's robes and only women can buy women's robes.
And oh the quest for this prize is amazing: Maplers, as they are called, go to MapleStory robe websites, YouTube tutorials (over 200,000 videos ) and mass chat rooms that demonstrate, teach, and advise and discuss the best methods to acquire this most elusive prize – the MapleStory bathrobe.
According to Maplers, acquiring MapleStory robes doesn't come easy or cheap:  First you must figure out how to get to Showa Town, then battle a variety of characters, like Fire Raccoons, on your quest.  And the only place that sells the robes, the bath house, does so at a pricey $30,000 mesos (the currency of MapleStory). Entree to the bathhouse is a fee of a mere $300 mesos.  Once you pay the fee, purchase the MapleStory robe, you are envied by all the other robe-less players.  You have the 'golden chalice' so to speak.
SPECIAL AND BESPOKE
The fun of MapleStory is to acquire something that is not easy to get, that is unique, something that not many have the ability or resources to acquire:  a bathrobe.  But not just any bathrobe, the MapleStory bathrobe.
Boca Terry can work with you to create that 'quest' for that special robe with your customers:  a customized, bespoke robe that reflects your business, your brand and speaks to your very special customer.
Boca Terry know that it's the little things that make the greatest amount of difference and creating a customized product that is tailored to your business and brand, that unique, bespoke robe, is what we do best.
We manufacture and distribute high quality embroidered and bespoke, custom products for a variety of professional industries. With years of expertise in the textile industry, our wholesale robe distribution staff helps each one of our clients place orders for custom or embroidered products to meet their exact needs at fair and competitive pricing.
Boca Terry has a creative consulting team that will work closely with your organization, large or small, on a variety of products, from promotional companies and luxury resorts to celebrity personalities, our goal is to develop and deliver a unique, special custom design.
Whether we are delivering 1,000 embroidered hotel robes for a resort in Hawaii within a week's time to make the deadline for a grand opening or 500 custom embroidered terry towels for a company's promotional celebrity charity golf tournament, the quality of our products is never compromised.
Our mission is to deliver your 'MapleStory' robe.
HIGH QUALITY COMPETITIVE PRICING
At Boca Terry, we work with a variety of businesses that have unique needs.
From specialty promotions to luxury spas to awards shows, we have the expertise to deliver your goods.
We can work with you to create an item that is ideal for your specific needs and budget.
Boca Terry specializes in designing and manufacturing custom bathrobes, towels and related items.  Our creative consulting team works closely with organizations of all sizes to achieve a unique and custom design.
Additionally, we take full ownership of the design and manufacturing of each of our wholes sale bathrobe, towel and related products.  Our direct access to the factories ensures that there are no middlemen involved when it comes to cost so we are able to deliver and especially high quality product with very competitive pricing.
YOUR NEEDS, OUR PLEASURE
Many times businesses find themselves with an opportunity to make a statement, to capture a new demographic, but may not have the immediate insight to understand how to leverage that opportunity.
With so many industries changing with the times, it's important to have partnerships with the product suppliers that impact your business.  Because Boca Terry has full ownership of the design and manufacturing of our goods, as well as direct access to our factories, we are able to work with your budgetary parameters in a variety of ways.  From bulk purchases to innovative delivery, we can discuss many purchasing opportunities with you.
THE QUEST IS WON
Boca Terry understands that there are many choices for you to make on your quest for the perfect supplier, the perfect vendor.
Our goal to make the best possible product at the best possible price and 'win' your clients over when they wrap themselves in the plush, lush experience that is Boca Terry.
With men's and women's robes both being a staple in most people's wardrobe that is worn on a daily basis, it's important to ensure high quality, durability,  and most importantly, lush comfort.
Boca Terry makes a wide variety of styles for both men and women in a variety of fabrics from organic cotton to fleece to plush velour. Our broad selection, constituting a myriad of combinations, is sure to have an option that is ideally suited to your business.  And if not, our creative consultants can make your idea of the perfect robe a reality.
We can take your idea further as we offer custom embroidery on our robes and related items.  We can accent your selection with beautifully stitched logos, emblems, monograms and much more.
CONTACT US
We would be honored to work with you and your business and project on your quest to create that envied "MapleStory" robe to set your business apart for the competition.
Our years of experience have gained Boca Terry a reputation for quality, competitive pricing, and delivering a purchasing experience that is second to none.
We would be honored to serve you, in MapleStory, Showa town or your town.
Call us today for a consultation and quote; we can be reached at 877.421.6001.
Share this item with friends