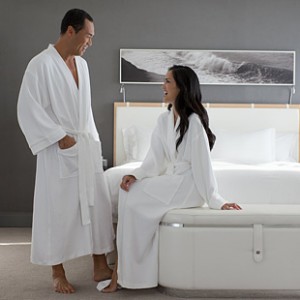 As one of the leading manufacturers of spa robes for men and women, Boca Terry has some of the most beautiful and luxurious styles on the market today. Our dedication to providing the hospitality industry with quality cotton products that exceed expectation are what gives us the reputation for being one of the top suppliers for hotels and spas worldwide.
When it comes to spa robes for men, our selection is not just wide, but also perfectly designed for comfort and ease. We know that lounging by the pool or stepping out of the jacuzzi requires not only a robe that wicks away moisture, but also that lets the wearer know that he doesn't have to put on regular clothes immediately in order to look appropriate. We've created our men's robes with the whole day in mind, fully aware that when he has taken time to stay in your hotel or spa, he is most likely doing so to relax and unwind.
With our connection to the finest designers, we have managed to stake a claim on classical and modern styles that are created for optimum comfort. An example of this is our Basic Kimono robe with its double belt loops for adjustable waist height, generous pockets for keys and other small necessities, a hanger loop in the back for easy drying, and the exceptional feel of terry or velour that glides over the skin. A chic look for both men and women, this robe is one of our best sellers for its clean lines and extreme comfort.
Our Microfiber robe is another excellent choice for men, with its enveloping French terry lining. Here again, the double belt loops, deep pockets, and hanger loop make this piece perfect for lounging and enjoying hours of comfort. With its roll up collar and cuffs its easy for a man to wear around the pool for napping, enjoying a cool cocktail, or simply drying off knowing that he's looking as good as he feels.
When you buy our spa robes for men in bulk, you are saying that you value your guests. Providing men with luxury items is a way of thanking them for staying at your locale and acknowledging that they are just as conscious and appreciative of stylish things as women. Every man knows what it means and feels to wear something well made, and just the same as clothing or a beautiful watch, it allows him rise to the occasion.
As you well know, the value of your hotel or spa is reflected in every detail, from the settings you use in your dining area to the sheets you place on each bed. When you put your focus on a fine men's robe, you do justice to a high level of taste and this is always noted and appreciated by your guests.
To learn more about buying spa robes for men in large quantities, please contact us via our online form, which can be found at Contact Us, or by calling at 877.421.6001.
Share this item with friends