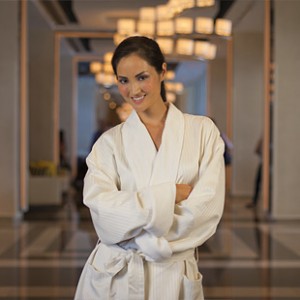 Constant State of Comfort
As a spa owner or manger you always want to provide the best services and amenities for your clients and guests. People visit spas to be refreshed, to relax, to get away from the stress of every day life. Those are the feelings that you want to provide for your guests and clients throughout every experience they have at your spa. One of the best ways to ensure that your guests are in a perpetual state of comfort and relaxation is to provide them with high quality, luxury bathrobes.
Keep the Standards High
Anyone in the business knows that it is the small things that are the most important when it comes to customer satisfaction. The truth, is indeed, in the details. But we also know that the cost of providing those luxurious details can add up for the spa owner or manager. That is why we, at Boca Terry, strive to offer top-quality products at the best wholesale prices. We want to ensure that you continue to be able to provide your clients and guests with the creature comforts that they deserve and have come to expect from your business without forcing you to spend more than your budget allows.
Options, Options and More Options
There are endless options when it comes to selecting just the right bathrobe to have on hand at your spa. You will want to take into consideration your location, native climate, décor and clientele when deciding which bathrobe is the best option. No matter what decisions you make, we can provide you with the perfect spa robes and accessories to meet your requirements. Some of the styles offered include:
•     Basic Kimono
•    Checkered Bathrobe
•    Classic Shawl Collar Bathrobe
•    Fleece Kimono Bathrobe
•    Hooded Bathrobe
•    Kimono Waffles
•    Knit Waffle Bathrobe
•    Micro Chamois Bathrobe
•    Microfiber Bathrobe
•    Microtec Bathrobe
•    Microterry Bathrobe
•    Mini Stripe Bathrobe
•    Pink Kimono Satin Robe
•    Satin Stripe Bathrobe
•    Shawl Waffles Bathrobe
•    Velour Stripe Bathrobe
Create Memories with Customization
Another option available is customization. Nothing brings your spa to the next level like having custom embroidered robes available for you clients and guest. Every time your guest slips into a customized robe she will be reminded of the high quality and luxury of your spa. It will leave a lasting impression of comfort that she will take with her long after she leaves, a lingering memory that will encourage repeat future visits.       
Best Product At the Best Prices
At Boca Terry, we strive to make it easy for you purchase top of the line products for your business at the best possible industry rates. We want your clients, customers and guests to experience the luxury of coming to your spa and slipping into a custom robe that they will not want to take off. We are waiting for you to call so that we can help you find the best bathrobe for your spa. Please contact us Toll-free at 1-877-421-6001 or locally at 954-312-4400 to learn more about product options and wholesale pricing for your business. You can also contact us via our online form, which can be found at http://50.97.39.122/~bocaterry/contact-us. We are here to help.
Share this item with friends