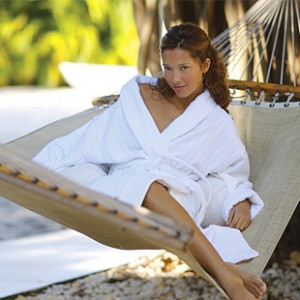 Established in 1996, Boca Terry is the brainchild of Bruce and Edward Cohen who combined their manufacturing expertise to create a business tailored for the hospitality industry. With luxury products for hotels and spas throughout the world, our company is well known for producing the best selection of bathrobes for wholesale purchase.
Since its inception, we have grown in size and reputation, quickly becoming one of the top distributers of luxury hotel and spa items, with distribution throughout the United States, Europe, and the Far East. Our warehouses in Deerfield Beach and Miami, Los Angeles, London, and Hong Kong allow for quick response and action when it comes to delivery, which is another factor that adds to our increasing allure as one of the top selling companies of its kind.
High Quality at Competitive Prices
With a dedication first and foremost to quality, we believe that luxury doesn't have to come at an exorbitant price. Boca Terry's competitive rates for wholesale purchase belie the exquisite attention our designers pay to styling, design, and materials.
A Beautiful Array of Styles
Our designers have created an array of styles that provides customers with a beautiful palette of designs to choose from. From the Basic Kimono to the Microterry bathrobe, we have been satisfying every taste when it comes to cozy, absorbent, functional, and stylish pieces for men and women.
Our Specially Created Bathrobes
Whether ordered directly from the catalog or custom ordered, our sensitivity to quality is always present in our specially created selection of bathrobes. Special order a series of robes with embroidered enhancements or in special prints or designs, or simply choose from the myriad of exquisitely made pieces such as:
• The basic kimono
• The checkered bathrobe
• The classic shawl collar bathrobe
• The fleece kimono bathrobe
• The hooded bathrobe
• The kimono waffles
• The knit waffle bathrobe
• The micro chamois bathrobe
• The microfiber bathrobe
• The microtec bathrobe
• The microterry bathrobe
• The mini stripe
• The pink kimono satin
• The satin stripe
• The shawl waffles
• The velour stripe
• The organic basic kimono
• The organic classic shawl collar
• The organic lightweight waffles
Special Orders for Plus Size
We know that people come in many sizes, beyond just small, medium, and large. For this reason we provide special ordering for plus sizes in almost all of the bathrobe styles that we offer. Our aim is to provide your clients with the sense of luxury they deserve as they take time off from their busy lives to enjoy needed rest and relaxation.
Great Customer Service
It is our pleasure to offer you a constantly evolving catalog of bathrobes that appeal to anyone appreciating the sensuality of quality fabrics and a comfortable fit. We pride ourselves on our great customer service, as our passion is to make sure that each and every person wearing our robes feels like royalty.
For more information on how to order our impeccable selection of bathrobes, contact us or call 877.421.6001.
Share this item with friends