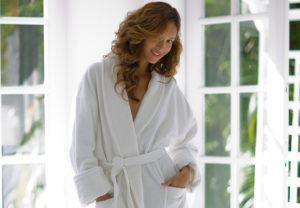 Does your hotel need an extra dose of luxury? It might be time to bring the lavish indulgence of Boca Terry's plush bathrobes to your guests. Boca Terry has been in the bathrobe manufacturing industry for over two decades now.
Our long-term experience in the industry has allowed us to grow long-standing relationships with renowned fabric suppliers and other well-known merchants in the market. This has not only allowed us to offer luxury at an affordable price, but also at a unique and ultra comfortable fit.
Multilayered Perfection
We always choose the highest quality materials for the production of each individual bathrobe to assure the most opulent appeal. So, your hotel guests will always feel pampered and hold their loyalty to your establishment.
The following are some of the many features that make Boca Terry's bathrobes stand out as among the most sought-after in the industry:
Location-oriented. From cotton terry and velour to microfiber and microchamois alternatives, it's easy to find exactly what you need for your hotel's setting. Whether you need a bathrobe for cooler weather, or for a beautiful beach resort, you'll find a model to suit any environment.
Practical accents. Each bathrobe is composed of compartments that ooze functionality. Large front pockets make it easy to store personal belongings, while a hanger loop is located at the top for easy storage. The shawl collar models come with cozy roll up cuffs, as well.
Flexible utility. Boca Terry's selection of bathrobes is easy to wear in various areas of your hotel. From the pool area to the spa or a guest's room, each one-size-fits-all robe can flatter any silhouette, while providing easy movement. Some of our collections also come in plus size options.
Timeless styles. Whether a contemporary décor theme or a more traditional one dominates your hotel, Boca Terry's different robe styles come in several textures to suit any space. For instance, you can opt for a checkered or striped design, or a more solid one, depending on where you plan on placing the bathrobes.
Customizable nature. Start increasing your brand awareness with a more personal flair. All of Boca Terry's bathrobes and spa products can be customized with a monogram, logo, emblem, or design that reflects your hotel's brand. Our designers will work closely with you to come up with the optimal design that will put the finishing touch on luxury.
Top-notch durability. Thanks to the high quality composition of Boca Terry's bathrobes, you won't have to worry about having to replenish them soon after purchasing. All bathrobes are made with the quality to withstand the numerous launderings required by the hospitality industry, so as to avoid dealing with signs of wear and tear.
Competitive pricing. As mentioned above, all of our wholesale bathrobes are priced reasonably, in large part due to the fact that we don't require the collaboration of any middlemen. Matched with a long-lasting build, you can get more bang for your buck and efficiently meet your budgetary needs.
Diverse Options for Every Taste and Occasion
You might be hosting an event or own a luxury boutique in your hotel. Whatever the case may be, Boca Terry's bathrobes make for excellent garments for spoiling your guests. Upon throwing on the extra plush bathrobes, your guests will be immersed in the ultimate sensation of comfort, and will correlate that feeling to your hotel.
Some of our most popular wholesale bathrobe models include:
Basic Kimono – With influences from Japanese heritage, this traditional kimono is perfect for any minimalist setting. It's available in terry and velour variations.
Checkered Bathrobe – Choose from a kimono or shawl collar style to complement the soft and lush textures of this unique style that can be worn all year long.
Classic Shawl Collar Bathrobe – This classic dates back to the Victorian era as it flaunts a soft and absorbent makeup that both ladies and gents will appreciate drying off in after a soothing shower or bath.
Hooded Bathrobe – Providing the utmost coverage and warmth when the hood is thrown over, your guests will be immersed in a haven of relaxation no matter where they are.
Knit Waffle Bathrobe – Featuring a balanced blend of cotton, modal, and polyester fabrics, this bathrobe's unique attributes give it the softest composition for ongoing coziness.
Micro Chamois Bathrobe – This lightweight option is assimilated to flannel courtesy of its warm and soft traits, matched with its extra durable nature for a deluxe fit.
Microfiber with Plush Lining – Lined with 100% polyester microterry, this lush robe exudes a sophisticated façade that takes luxury to new heights.
Microtec Bathrobe – Choose from the Mini Check Kimono, Pineapple Kimono, Mini Check Shawl Collar, and Pineapple Shawl Collar alternatives for the perfect polyester/nylon pattern for your hotel.
Pink Kimono Satin Bathrobe – This short and chic bathrobe effortlessly drapes over with grace, radiating a subtle shine that can light up any room with its intricately woven fabric.
In addition to the above, we carry several types of organic bathrobes for the more eco-friendly oriented. Our 100% certified organic cotton bathrobes are perfect for catering to guests with skin sensitivity issues and allergies. Each of our organic bathrobes is made without the use of harmful chemicals, while still maintaining the durability and quality features of the rest of our lines.
Contact Boca Terry for Your Hotel Bathrobes
Ordering wholesale hotel bathrobes is a breeze with Boca Terry. Our knowledgeable team of professionals is always ready to help you to choose the best options for your hotel and is happy to offer you additional details on all of our products.
You can match your bathrobes with our diversified options of slippers and spa accessories with your choice of customization. Boca Terry has been working with various industries including bed and breakfasts, cruise lines, gyms, massage centers, professional sports teams, hotel developers, spas, and the list goes on.
We've been supplying top-tier hotels around the globe with our luxury bathrobes with an abundance of positive feedback. To get started on your order or for more information about our product line, contact Boca Terry today. We look forward to hearing from you.
Share this item with friends