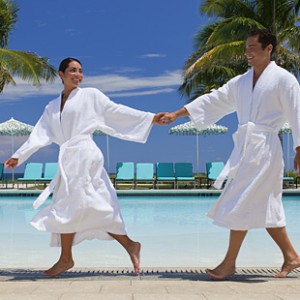 You're going on a cruise. You've spent a considerable amount of money for the luxury of a ride across the waves, taking you to exotic ports where you can revel in new sights and sounds. You've chosen a cruise line that will provide you with the optimum way to get away from it all, with plush accommodations, exceptional activities, fine dining, great entertainment, and a chance to unwind far away from your everyday life. You expect the best.
Expecting To Be Pampered
When you invest in a vacation, your expectation and hope is to be pampered. You don't want to have to think or plan too much. You want everything to be there at the tip of your fingers only for the asking. You want to feel appreciated and special.
Every Detail Counts
At Boca Terry we understand what one should expect from a vacation. We've been on them many times ourselves and we know that every single detail counts when it comes to services and amenities. When nothing seems to be overlooked, we know we are in the hands of hospitality professionals, and this means we've spent our money well.
The Ultimate in Loungewear
One detail that many in our business overlook is the importance of providing customers with the ultimate in loungewear. Sometimes it is taken for granted that guests will bring their own, or that a simple towel will do when it comes to drying off after a shower, bath, hot tub, or pool experience.
Speaking of Class
Providing a lush bathrobe is one of the most important elements in presenting your company as the first and finest. Providing a personalized bathrobe speaks of class.
That One Extra Touch
With a selection of simple and elegant styles, our designers at Boca Terry have created a line of terry, velour, and fine polyester bathrobes that have been draping the bodies of the general population as well as vacation connoisseurs for years. Our five star hotel and spa clients have been choosing to personalize robes with every order as they recognize the enormous value in providing that one extra touch that means the difference between ordinary and exceptional.
Enhancing Word of Mouth
In these competitive days where every aspect of your business can make or break your company, taking that extra measure to personalize bathrobes is a way to enhance word of mouth as your guests will never fail to exclaim once they are home, "I never wanted to get dressed, the robes were so beautiful."
An Experience Fit For Royalty
The many testimonials we get from our clients attest to the fact that cruise line guests expect more from their experience than most vacationers. By ordering any one of our flawlessly made robes and having them personalized you will instantly upgrade your reputation as you rise to the occasion of providing an experience fit for royalty.
For more information on how to order your personalized bathrobes, please contact us via our online form, which can be found at http://50.97.39.122/~bocaterry/contact-us or by calling toll-free at 877.421.6001.
Share this item with friends