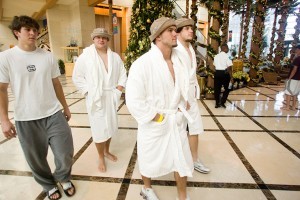 Home is where the bathrobe is… or is it? Wearing your bathrobe at home or outside of the house is more than just a practical fashion statement. You can put its versatility to use in more locations than you've probably ever thought of. That's because bathrobes are becoming a staple in numerous settings.
Whether you're out on vacation or just relaxing at home, this trendy accessory is a must-have companion for going about your daily routines. Here are a few places and instances you might want to consider wearing your stylish garment in.
Roam Every Corner of Your House
So you might be thinking that your bathrobe can only be flaunted in your bedroom (bathroom included), but in fact, it can serve more than just the regular comfort zone. Besides wearing your silk or satin kimono while getting ready to seize the day from your bedroom, you can take it to the kitchen and get breakfast ready while deciding where to start on your tasks.
You might have some lingering chores to do like getting that pile of dishes out of your way or taking your dog out for a walk. Or you're pondering how to clean up every room while staying comfortable. Bathrobes not only offer easy maneuverability, most can handle a good wash in case you accidentally get a stain while taking care of household activities.
Caught up with tons of work? Your home office can get spruced up with an uber smooth bathrobe to help you meet your deadlines with ease. If you just want to have a night in watching your favorite sitcom, a bathrobe like Boca Terry's Basic Kimono is an ideal replacement for your lounge pants or pajamas. Get the popcorn ready and enjoy your movie night in style!
Take on Another Day on the Runway
Whether life is your runway, or you're preparing to put on a show, a bathrobe can help you transition into whatever part your audience awaits. You can be part of activities tied to Fashion Week madness, the stage of Broadway (or one similar to it), or a local talent show. Having a bathrobe packed up can relax you and make you feel like the star you are—and help get rid of any stage fright you might have, too.
Your runway could be your wedding day or that of a loved one. Preparing for such a special event entails doing everything possible to get the ultimate amount of unwinding time. Brides and bridesmaids alike can enjoy Boca Terry's Pink Kimono Satin Robe while sipping on some champagne and getting beautified for the big day.
Enjoy a Great Escape
The bride-to-be and groom-to-be may be preparing for tying the knot with a single's trip. The adaptability of bathrobes allows both ladies and gents to enjoy wearing one during their stay at a lavish resort. You can stay cozy and ready for a fun-filled trip, no matter where you are.
You might be preparing for your honeymoon. "His and Her" bathrobes are a lovely idea to personalize your trip and make it even more memorable. For instance, you can request having a monogram applied to your Boca Terry bathrobe for any occasion.
Boca Terry's wide selection of bathrobes can tag along with you in virtually any section of a resort. Whether you just want to stay in your room and enjoy a beachside view or city view from your balcony, or perhaps would like to go for a swim in the infinity pool, having a bathrobe can save you from packing extra cover-ups. Boca Terry bathrobes are easy to fold and pack, letting you relish the meaning of "traveling light."
Relax at the Spa
Did you know that the term "spa" is derived from a Belgium town called Spa? The town was well-known for healing and treating illnesses during medieval times. Today, spas have expanded to encompass an array of soothing themes and activities including medical care.
You might be going to the spa to get a massage, mud bath, or facial to just relax, or to treat an ailment. In either case, wearing a bathrobe can help enhance your experience in multiple ways. You can throw it on after any soothing treatment and stay comfortable without fretting getting oil on your clothing.
Rather than wrapping a towel around you, you can simply tie your bathrobe's waist-belt and get moving—or stay where you are. Get out of the sauna with Boca Terry's Classic Shawl Collar bathrobe to make for a snug spa partner.
Lounge by the Water
Resort pools are a fun spot to flaunt your modish bathrobe, and so is the beach. Having fun by the water calls for staying warm and dry when you get out of the water and feel a subtle wind chill. Instead of packing towels, a bathrobe is lightweight and easy to fit into your beach bag.
You can simply throw it over even when you want less exposure to the sun. It's easy to move in for a relaxed walk on the sand or for building a sand castle. Replace your swimsuit cover-up with a hooded bathrobe from Boca Terry and you can even pair it with a luxe lounge chair cover.
It's Not Where You Are, It's What You're Wearing
Wherever life takes you, bathrobes can do wonders for just about any location and experience. There are no limits on how comfortable you should be regardless of where you are. Bathrobes are a fitting accessory to prioritize comfort from your house to a resort, or any holiday venue and event. Who can say no to that?
If you'd like to get started on placing your comfort at the top of your to-do list, Boca Terry is waiting for your call. Contact us today and let us help you choose the right bathrobe for the location of your choice.
Share this item with friends