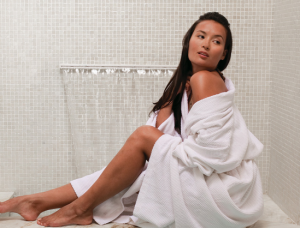 For lounging around on a relaxing day, some of us like to immerse ourselves in the soft touch of velour, while others prefer the smooth embrace of terrycloth or satin. No matter what fabric you're more inclined to choose, one thing's for sure, no one can say no to comfort.
The best part about bathrobes is that they're one of the rare garments that have comfort written all over them. So how would you know which one can best suit your personality and preference? Boca Terry's large variety of bathrobes can pretty much match anyone's palate, regardless of where you'll be wearing your bathrobe.
Sunbather and Watersports Aficionado
If you like to be out in the sun and/or by the water, then choosing a bathrobe with maximum absorbency would be the best option for you. Fortunately, a number of Boca Terry's bathrobes are available in high quality terry variations, which serve as optimal materials to dry off in after your swim.
Replace your towel and regular swim cover wardrobe with a bathrobe that's lightweight and easy to pack and carry around with you. Boca Terry's Basic Kimono is made of 100% combed cotton and it's available in terry or velour.
It features multi-needle stitching for extra durability and style. If you want to protect your belongings while keeping them close for use, just use the robe's generous pockets.
Terrycloth is usually manufactured with longer loops of thread to absorb larger amounts of water. Wearing a terry bathrobe will allow you to easily wash it just like you wash your towels. So feel free to enjoy boating activities and being by the sea while wearing a hugging bathrobe and sipping on your colada.
All Around the House
Whether you're having your own spa day straight from home or you're hosting a movie night at home, a soft microfiber bathrobe will place you in the relaxation zone in no time. Boca Terry's Microfiber bathrobe with Plush Lining comes in white and ecru shades to match with any room of your house.
This bathrobe is made of 85% polyester and 15% satin shell. The great thing about bathrobes with polyester is that they're more resistant to stains and can be folded easily without wrinkling as much as other materials. So if you don't like to iron, that would be a great choice for you!
Lined with 100% polyester Microterry lining, our Microfiber bathrobe has a roll up collar and cuffs to adjust to your convenience. Some styles are available in smaller and larger sizes. So you can indulge in your favorite guilty pleasure snacks without overly stressing any stains. When you're not being a couch potato, you can even wear your robe to work from your home office, cook, or clean.
Mother Nature's Friend
You might just love living the organic lifestyle. If you eat healthy, then why not dress healthy? Be friendly to the environment and to your health with Boca Terry's Organic bathrobe lines. Made of 100% certified organic cotton, our eco-friendly bathrobes are also available in terry and velour versions.
Organic cotton's production process involves using natural farming methods, which means you can protect yourself and the environment from the detrimental effects of pesticide use. Genetically Modified Organisms (GMOs) are also left out of the equation in organic farming methods. You can lower your carbon footprint with any of our Organic bathrobes:
Organic Basic Kimono
Organic Classic Shawl Collar
Organic Lightweight Waffles
Spa Loyalist
You might have your sights set on your next visit to the spa. You can pretty much go any route when choosing the fabric and style of your bathrobe. Keep in mind whether you'd like to go for a cotton bathrobe or one made of both cotton and polyester.
If you're considering going for a dip in the pool or Jacuzzi, or even harvesting the benefits of an imperial mud bath, it would be wise to opt for a terrycloth bathrobe. Perhaps, you're the owner of the spa. Why not mix it up and have different bathrobes on hand?
Boca Terry's Kimono Waffle bathrobe blends character with practicality. It's available in several piping colors, sizes and styles, and you can choose between a 100% cotton version or go for one made of 67% cotton and 33% polyester. The waffled pattern on our kimonos offer a sleek finish to go with the bathrobe's breezy nature.
Unique at Heart
If you would like to personalize your bathrobe to add a dose of originality, you should customize it with a monogram or unique design/print. Hotels and resorts can add their signature emblem to their bathrobes to match their distinct brand.
You can even get ready for a big event. Whether you're planning your wedding or that of a loved one, or you're going on a single's trip, personalize your bathrobe and that of the guests for a more memorable experience.
For example, changing things up with a satin robe will augment the luxe factor. Satin's shiny finish isn't just appealing to the eyes; it's also silky smooth on the skin. You can even customize them with guests' names at an event or party and pass them out as a lovely parting gift. Try Boca Terry's Satin Stripe bathrobe or Pink Kimono Satin bathrobe for chicness and originality.
The Boca Terry Treatment
At Boca Terry, our wide selection of bathrobes and spa accessories can fit just about any character and preference. No matter what style or fabric you choose, you'll always get exceptional quality.
We manufacture our bathrobes in factories located in China, India, Turkey, Pakistan, and Columbia. If you'd like to customize your bathrobes, our design experts can help you choose the best options. For more information on our products, contact Boca Terry today and we'll be more than happy to walk you through getting your ideal bathrobe.
Share this item with friends