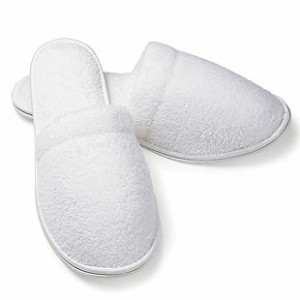 Today we want to talk about our top quality toweling slippers that pair so perfectly with each and every one of our Boca Terry bathrobes. Snug and easy to wear, our slippers are ideal for completing a picture of total comfort that is so important when it comes to providing your guests with the care they deserve.
Cushioning the Foot to Perfection
Matched with our custom made robes, our slippers are designed with the attention to detail we are known for. As we all know, there is nothing more sensual than putting your feet into what feels like a soft cloud that cushions the foot to perfection. Our white toweling slippers are made to absorb moisture like the perfect towel, wicking away excess water when emerging from the shower, bath, Jacuzzi, or pool.
An Ultimate Sense of Comfort
Padded with extra foam placed in the insoles creates a buoyant feel, and with the snug fit around the arch, our slippers are made to release tension from the feet through an ultimate sense of comfort. What could be a better way to instantly place your guests in another world than giving them this pleasure? Made of woven terrycloth, basic Waffle, Microfiber, or Microterry, Boca Terry slippers are lightweight, yet highly durable so that they can withstand the countless launderings that are required.
Long-lasting, Classic Designs
With a thorough understanding of the hospitality industry, our vision of a perfect world is providing extremely long-lasting, classic designs made of the finest textiles and sewn to perfection. The mission at Boca Terry is to help you maintain or build a reputation for the finest in service, which means creating an atmosphere that so entices your guests that they will always return to your establishment and that they will consistently have you in mind to recommend to their friends.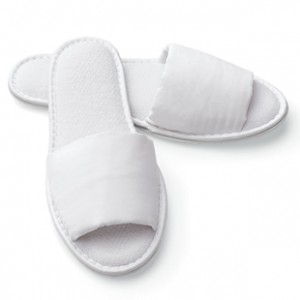 Defining Luxury While Costing You Less
We have a secondary motive as well, which is to provide you with products so well made that they define the word luxury, while costing you much less than you would imagine. All of our merchandise is completely overseen by our team of experts, from choosing the fibers that go into the weave to the final moment of quality control when we deem a product ready for shipment to you.
Staying Power, Aesthetic Value, and More
Because we have no middleman, we are able to keep our prices down. Because of our belief that the finest materials are in the long run the easiest and least expensive to maintain, we are able to reduce the amount of re-orders that would otherwise come from products losing their luster too soon. What we find at Boca Terry is that our customers re-order because they want more of our products because of their staying power, their extreme durability, their aesthetic value, and their extreme comfort.
Creating the Perfect Lounging Package
More and more of our clients are choosing our white toweling slippers to coordinate with any one of our custom bathrobe styles. Whether it is a hooded terrycloth robe, a Satin Stripe, or a Microfiber model, the beauty of our slippers is that they are made in a subtle design that helps to complete a perfect lounging package that will help your guests feel as pampered as they should be.
Expressing Company Culture
As hotels, inns, bed & breakfasts, cruise lines, spas, and even hospitals develop their brand, there must be an obvious continuity in choosing products that adequately express the company culture. If you are a spa that stands for organic products, then all of your merchandise should reflect this ethic. Using organic cotton would be the first choice, whereby your guests would always have the sensation that you are being true to your commitment to an eco-friendly and environmentally conscious choice.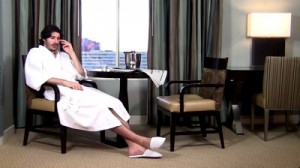 Feeling a Part of the Club
When we speak of brand continuity, we are also talking about instant identification, which has to do with your logo and its ubiquitous presence in your establishment. Your Boca Terry slippers can easily be customized to go along with your customized robes, all of which can be designed and executed by our design professionals. The psychology behind wearing garments that sport logos is not only to develop brand recognition, but even more importantly, to make your guests feel like they are a part of an exclusive club.
Duplicating the Experience At Home
In this regard, your in-house boutique or online store is the ideal platform for showcasing your wares. After a restful stay at your hotel, bed & breakfast, or spa, there is a very good chance that your guests will want to take home some of the items that contributed to their well-being. The idea that they can somehow duplicate the experience at home, or share the experience with friends or family by way of a gift, is what motivates the purchase and what will make indelible their time spent in your gracious locale.
The Essence of Good Marketing
Prolonging the experience is the essence of good marketing. The longer a feeling or memory can last, the more likely it is that you will have repeat bookings from guests who feel an increasing loyalty to your brand. We are all in love with feeling good, and those who can give us the sensation of being coddled, contained, and placed at total ease are the ones we gravitate towards.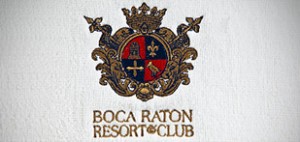 When the Feet Feel Pleasure, the Body Follows
A slipper is a seemingly small thing, but in the world of comforts, when the feet feel pleasure, the rest of the body follows. Your goal as a hotelier is to ensure that every moment of your guests' stay is a reminder of how wonderful they feel being with you. Every garment you provide should be a love letter that says sit back and let us take care of your well-being.
Our Dedication to Care
Besides paying the strictest of attention to every manufacturing and production detail, at Boca Terry we weave our sense of passion for what we do into every slipper, robe, and towel we make. We believe that when your guests use our products they can feel our dedication to care as well as yours, and that this feeling penetrates and adds to the good feeling they get being at your establishment.
Creating Special Designs
Our design specialists are always available for consultation. We are happy to confer with you on any special design that you may require for your white toweling slippers or any other product we offer in our beautiful catalogue of styles.
Contact Us Today
For more information on ordering or selecting models that will blend perfectly with your vision, please contact us today using our online form or by calling (877) 421-6001.
Share this item with friends