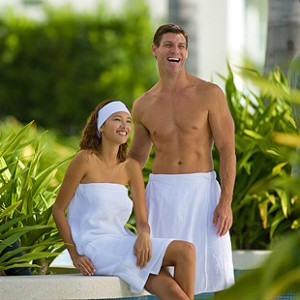 Bath Wraps Are a Good Choice
Bath wraps are chic and functional at the same time. They allow for a freedom of movement that is not available when wearing a regular towel. They are easy to slip-on, and they stay in place with no effort. Bath wraps are an excellent choice for any spa owner when choosing a cover-up suitable for discerning, modest clients.
Size Options
Because of the versatile design of bath wraps they are most commonly sized as one size fits all; however, in order to ensure that your clients feel the best they possibly can, it is advisable to have them available in larger sizes as well. Sometimes people prefer to have just a little extra fabric and a larger option may be just the right fit. We offer men's wraps with a length of 24" and women's wraps with a length of 32". And we offer larger sizes in addition to the basic one-size-fits-all. Additionally, our bath wraps stay secure with both elastic and a 3-snap system that allows for a snug, yet adjustable fit.
A Fabric For Every Client
When it comes to your clients and what will be the closest thing to their skin, only the best fabrics will do. That is why we offer our bath wraps in a variety of luxury fabrics, including 100% poly microfiber, 100% combed cotton velour, and a waffle fabric that is 67% cotton and 13% poly waffle. The microfiber option is available for women only and comes with a French terry lining that is sure to please. Whatever fabric option you choose, you can be sure that it will be of the highest quality.
Convenient, No-fuss Alternative to a Bathrobe or Towel
Some clients may prefer a bath wrap to a bathrobe or regular towel. With a bath wrap they will have the comfort and function of a clean cover-up without the hassle of sleeves or belts. They will have the security of an elastic band that will hold the wrap comfortably in place while they are free to participate in spa activities or simply relax. Your clients will be at ease, knowing that they are modestly covered up, yet looking stylish in their luxury, freeing bath wrap.
Personalization
An additional feature that is available and that should be considered when ordering bath wraps is personalization. Bath wraps can be made even more stylish with a personalized monogram or embroidered logo. Set your spa above the rest by offering bath wraps embroidered with your logo. Each time your guest slips into a bath wrap she will see your logo and it will serve as a reminder of quality and luxury.
We at Boca Terry take your clients' comfort seriously. Please contact us Toll-free at 1-877-421-6001 or fill out our form at http://50.97.39.122/~bocaterry/contact-us to learn more about bath wrap and bathrobe options. They are available with wholesale pricing for your spa. We would be delighted to discuss the best possible style and price option for your spa and are readily available to help you make the right choice.
Share this item with friends