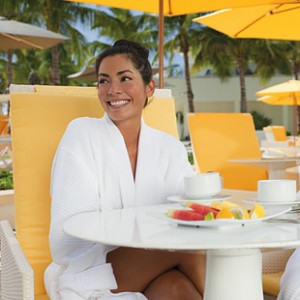 It is always interesting to follow the trajectory of a business. Usually when a company starts out, though the long-term vision may be expansive, it is enough to hope that survival is possible through the first few years with a few loyal clients who can keep things afloat.
Most companies fail within the first five years, as it takes time to see a profit, even for the most visionary of entrepreneurs. If a business can hold on, it stands a chance to survive, but fluctuating economic trends can staunch even the best ones.
Expanding Horizons in the Hospitality Industry
Boca Terry was created in 1996 with the idea in mind to create luxury products at reasonable prices, including robes, slippers, towels, and spa accessories. From the moment we decided to become a part of the hospitality industry, there was never a doubt that we would not only survive, but that we would also arrive at the point where we are today. With the confidence of a champion, we continue to focus on our goal of expanding horizons throughout the constantly growing global spectrum.
Needless to say, Boca Terry's presence in some of the world's most exclusive hotels, is by now a given. As one of the premier wholesale bathrobe distributors for luxury hotels in the UK, we can certainly remind ourselves that we have "arrived."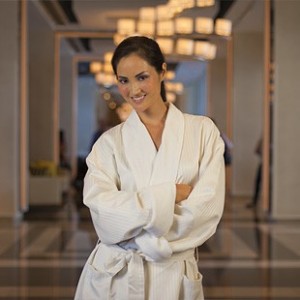 A Tradition of Service in the UK
Hospitality has a long history in England, with a tradition of service that dates back centuries to the earliest days of inn-keeping. Accommodations and sustenance have always been taken seriously in a country where the wayfarer journeyed far and wide, discovering and returning to the inn of choice. With their reputation for discretion, privacy, and giving the utmost in service, English hoteliers created extremely high standards right from the very beginning.
Setting the Bar
The criteria for determining luxury in a country based on royalty are obviously ones that set the bar. For this reason, we are not surprised that we are the supplier of choice in some of the most desirable lodgings in the UK when it comes to our exquisitely created bathrobes.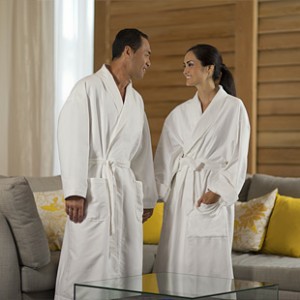 Serving Traditional and Boutique Hotels
Serving both traditional and boutique hotels, Boca Terry robes seem to be doing quite well when it comes to impressing the guests, and we continue to get fan letters that prove this is true. From sumptuous terry to the finest waffle weave, our robes fit the bill for lounging en-suite, sipping cocktails by the pool, enjoying between-treatment napping at the spa, or anything else in between.
Custom Embroidery
With a custom embroidered robe that displays the hotel logo, there is nothing that invites the wearer to feel like he or she is a part of an exclusive club. Using our digitizing services, hotels are able to send their artwork directly to us for a perfect and literal transformation into an impeccably embroidered emblem.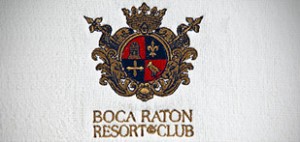 Quick Response, Competitive Prices, High Level Care
Our warehouses in London, Hong Kong, Los Angeles, Deerfield Beach, and Miami give us the perfect handle on quick response distribution, whether it is across Europe, the Far East, or the United States. With all of our materials manufactured in our own factories in China, Columbia, India, Pakistan, and Turkey, we are able to deliver all products without having to use a middleman, which is what helps us keep our prices so competitive. With a completely vertical process, from yarn purchase to weaving, every single article that leaves our hands has been lab-tested for quality control, arriving with a guarantee of the highest level of care.
Finding Solutions
Our innovative techniques for assuring durability and our consistent ability to come up with innovative designs are another part of the reason why so many of the great hotels across the world are choosing Boca Terry products to represent their brand. With a creative staff always ready to help our clients develop and expand, we are also able to find interesting solutions to whatever need may arise.
Eco-Friendly Products
One such example is in regard to cotton. Many of our clients are excited about the opportunity to go Green as they become more aware of the impact of conventional production and processing methods. We offer 100% cotton robes, as well as another viable material that we have sourced in answer to cotton's rising price. This is in our Microtec line, which is made from recycled plastic bottles. Sporting the Boca Terry "Recycle" symbol on their inside tags, we found a way for our clients to provide eco-friendly products without breaking the bank.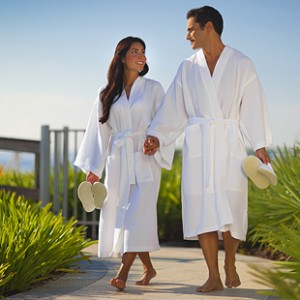 Styles for Different Occasions
Many of the UK luxury hotels that we work with order several different styles of robes. Because we have such a wonderful range of choices, buyers find that offering their guests different robes for different occasions is an excellent way to bump up their ratings. A hooded terrycloth robe for the hotel gym and then a Satin Stripe to wrap around for a late romantic dinner in the comfort of one's room; a Waffle Weave by the pool, and then an Organic Kimono for a late afternoon Jacuzzi are some great examples.
Chic and On-Trend
Boca Terry robes are always chic and on-trend, which is also a way to describe some of the great UK luxury boutique hotels we supply. Catering to a more contemporary traveler, our classically modern robes are the perfect answer to every age group, as they create a sleek look that conspires to make everyone look good.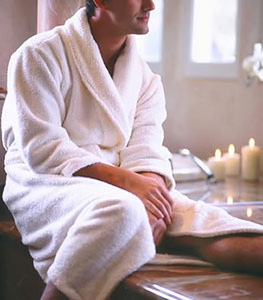 Old World Expectations, Forward Thinking Strategies
When it comes to luxury hotels in Britain and the UK, we appreciate their old-world expectations and forward-thinking strategies. This is what we at Boca Terry embody as well, and we are so happy to work with others who share the same ethic and aesthetic.
Contact Us Today
For more information on our exceptional bathrobes, slippers, towels, and more, please take a look at our online catalogue and feel free to contact us through our online form or by phone at (877) 421-6001.
Share this item with friends