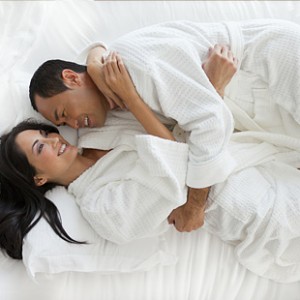 THE NEW EXPECTATIONS OF PATIENTS
For hospitals to be competitive, they must not only offer outstanding medical care. The amenities of the hospital play a pivotal role in a patient's decision of which hospital to choose.
And patient's expectations are rising: no longer are they accepting a cold, clinical atmosphere. They are choosing hospitals that cater to their preference to be treated in a comforting environment with all the comforts of a high-end hotel. And that includes a well-appointed room with all the amenities like plush towels, a lush robe and slippers.
Today, health care reform is fundamentally changing the way hospitals are run and the way they look. Fierce competition for the millions of newly insured patients that will result from federal health-care legislation has put the patient front and center and with it:  the patient experience.
This is latest buzzword to enter the vernacular of healthcare leaders and is based on increased attention to its linkage to the Hospital Consumer Assessment of Hospital Providers and Systems (HCAHPS) scores. As one CEO recently shared, the real dollar impact does have executives thinking twice about the patient experience and how to leverage that into a positive bottom line result.
HOSPITAL AMENITIES
More and more hospitals are looking to redesign to become less clinical and more 'spa like' by creating a 'healing environment' to encourage accelerated response to care.  And the call comes from the patients themselves, who have said that "the nonclinical experience is twice as important as the clinical reputation in making hospital choices."
So hospitals are responding using luxury services like upscale meals, private rooms, magnificent views, high-end toiletries, robes, plush towels and valet parking, to attract patients and gain market share.  Although amenities have always been linked to hospital competition, they are growing in importance as patients have more say in choosing a hospital, notes NEJM article co-author John Romley, an economist with the Schaeffer Center for Health Policy and Economics at USC.
THE ROLE OF ROBES IN HOSPITALS TODAY
Some may feel that this newfound focus on hospital amenities and the patient experience may be a little overboard, but let's take a look at who is really in a hospital and using the facility.
With modern medicine, so many illnesses can be treated as outpatient services.  So that leaves those that are truly ill to be serviced short and long term in a hospital setting.
Think about lying on your back, in an unflattering flimsy hospital robe staring at the ceiling while exposing a part of your body to an enormous machine above. An experience like this can be quite discomforting.
Now, think about having something that provides comfort during that medical treatment, like a plush, comforting robe. In place of an unflattering hospital gown, the choice for a patient is obvious: the plush, comforting robe wins.
"It helps calm patients, and when a patient's psyche is calm, that helps them not be as stressed," says Dr. Susan Rakfal, a fellow of the American College of Radiation Oncology and medical director of UPMC CancerCenter McKeesport Hospital as well as chairwoman of the department of radiation oncology there. "These robes can't break a person's tumor, but they can help make their lives a little less stressful during such a rough time."
A substantial plush robe can act as kind of a hug for women battling breast cancer, say those who have worked with patients. Some are calling them "dignity" robes, saying they are not are not a new thing, but having them readily available to patients makes a difference.
A HIT WITH PATIENTS NOT A HIT ON THE HOSPITAL'S BOTTOM LINE
Boca Terry is honored to be in an industry that can make a difference in the quality of patient experience in hospitals.  Being a family owned and operated business, Boca Terry takes its client's needs seriously and provides top quality robes, towels and related items that make patients feel good.
Health care is expensive, and it's a business that needs to be cognizant of its bottom line.  Boca Terry manufactures high quality robes, towels and related items that stand apart from their competitors because they connect directly with their suppliers.
Boca Terry knows that developing robes, towels and related items is only part of the equation.  The longstanding relationships with our suppliers enable us to continue to acquire the best quality products and well-executed production in the world at the most competitive pricing.
Our ability to make these guarantees is a direct result of having no middleman. We deal direct and therefore able to pass on premium quality at highly competitive pricing, something that our competitors cannot or do not do.
PARTNERSHIP FOR PATIENT EXPERIENCE
With the awareness of the importance of the link between patients and hospital experience being in the forefront of hospital management's sight, Boca Terry knows that we can partner with your facility to offer the most competitive wholesale pricing on robes, towels and related items and honor your patients and your bottom line.
With many years of expertise in the textile manufacturing industry, Boca Terry has helped many of its clients anticipate oncoming challenges and overcome them with real world solutions. Sometimes it's our outside perspective and strategic contributions that play a greater role in our clients' success stories than just product supply.
We would be honored to work with you and your hospital to create a patient experience that sets your facility apart from the competition. We invite you to contact us to discuss your needs; we would like the opportunity to support your vision for your patients.
With years of expertise in the textile industry, our wholesale staff will help you determine the right style, fabric, color and quantity and even help with custom or embroidered products to meet your exact needs at fair and competitive pricing.
Contact us today.  We look forward to creating a partnership for a better patient experience. We can reached by telephone at 877.421.6001, or through our online contact form.
Share this item with friends