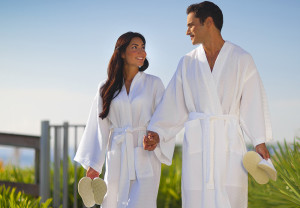 Bathrobes were created to offer the ultimate sensation of comfort and pampering. Some take on a more modern appearance, while others are more classic or blend both a contemporary and traditional look.
Kimono waffle style bathrobes are perfect examples of bathrobes that blend the elements of a classic, yet current appeal. These bathrobe models are more flexible since they can be used in various environments.
Whether you're looking for bathrobes for your hotel, spa, or any other business, Boca Terry has a wide assortment of luxurious wholesale kimono waffle bathrobes to choose from. Our bathrobes stand out with a unique design and premium build that can blend into practically any setting.
Elements of a Quality Bathrobe
When you're choosing a wholesale bathrobe supplier, you should consider several key factors:
Are their bathrobes durable?
Do their bathrobes come with practical compartments?
Are their bathrobes versatile?
Are their bathrobes priced reasonably?
Can their bathrobes be personalized?

At Boca Terry, the answer to all of those questions is yes. In addition to offering one-of-a-kind bathrobe styles, our fashionable selection is accompanied by stylish spa accessories and towels.
Long-Lasting Structure
Boca Terry focuses on using top-quality fabrics and manufacturing techniques to create all bathrobes and spa products. The Kimono Waffle and Knit Waffle bathrobes are two of our most popular kimono waffle bathrobe styles.
The Kimono Waffle is available in several variations:
Short Basic Waffle (67% Cotton 33% Poly)
Large Diamond Kimono
Multi Waffle Kimono
Basic Waffle (67% Cotton 33% Poly) Kimono
Basic Kimono Waffle with Piping (67% Cotton 33% Poly) Kimono
Seashell Waffle Kimono

The Kimono Waffle bathrobe comes in your choice of a 67%-cotton 33%-poly blend, or in 100% cotton. The lightweight waffle flaunts simple lines that enhance the garment's flexible nature.
The Knit Waffle bathrobe is composed of a 45% cotton, 45% modal and 10% polyester build, and it's also available in both kimono and shawl collar versions. Modal fibers are world-renowned for their extra smooth and rich texture—in fact, they're about three times softer than cotton—as well as their unique attributes, which can be seen and felt on this lavish bathrobe.
The textures of each kimono waffle bathrobe are woven in a manner that maintains their longevity, while offering a high amount of absorbency. They can endure several launderings, which are highly required to meet the sanitary requirements of the hospitality industry.
With Boca Terry's quality selection, you won't have to fret having to deal with a dull bathrobe with signs of wear and tear after just a few washes. Long-lasting comfort comes standard on all of our models.
Practical Structure
Comfort isn't just enjoyed with the makeup of a bathrobe; it's also found in its overall design. When you or your guests want to store any of these bathrobes, you can easily use the hanger loop or simply fold them into storage.
Since polyester is a wrinkle-resistant fabric, the garment won't display creases that easily. The large front pockets are great for guests to keep their personal belongings in close proximity, and the double belt loops allow the wearer to adjust the belt height to properly flatter their silhouette.
All-Around Versatility
With a practical build comes the ability to use a bathrobe in various environments. With cozy roll-up sleeves, Boca Terry's kimono waffle style robes are perfect for wearing at the spa, as their fabrics can absorb massage oils and creams.
Whether you have numerous facilities or just a few, bathrobes can come in handy just about anywhere. Your guests can enjoy eating or having a drink by the pool bar, without having to grab a swimsuit cover-up, or they can simply use the robe to get ready for a day or night out.
They're also great for a stroll along the beach or for just lounging around a hotel room. The length of each bathrobe offers enough coverage to maintain privacy in case an unexpected visitor stops by.
Competitive Prices
Boca Terry's kimono waffle bathrobes are reasonably priced. We've been in the industry for over 20 years and have developed long-standing relationships with tier one fabric suppliers. This has allowed us to choose the best materials in the market and price our products at prices that won't break the bank.
Since we manufacture all of our bathrobes and spa products in our overseas factories, there is no need for any middlemen. That ultimately drops the price of each piece. In parallel to sensibly pricing our products, we offer worldwide delivery and deliver our bathrobes in a timely fashion.
Personalized Alternatives
At Boca Terry, you also have the option to customize any bathrobe choice with monograms, logos, or emblems that are intricately stitched to perfection. Our skilled design team will work with you to bring your idea to life.
Personalizing your bathrobes to display your business's image or name can not only greatly enhance your brand loyalty, it'll also help you add to the lavish statement your Japanese-inspired garments will make on your customers.
Contact Boca Terry for Your Kimono Bathrobes
Kimono style bathrobes are timeless classics appreciated by a host of preferences. The number of benefits they offer make them ideal for guests to use on several occasions. At Boca Terry, you'll find a large variety of kimono bathrobes and matching spa accessories.
For more information about our quality products or how to place your order, call Boca Terry today. Our knowledgeable team is always ready to help you with any questions you might have.
Share this item with friends