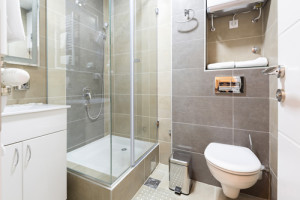 What makes for a high-end hotel's brand recognition? For one, it's certainly steered by originality in offering the highest quality when it comes to amenities and services to assure guests enjoy the optimal experience during their stay.
Among those facilities lies the availability of accessories that can ease the stay of each visitor. That's where luxurious bathrobes come in. The best part about including lush bathrobes in each guest's room is that they can easily use them whenever they please and feel the sense of pampering they yearn for.
The Power of Quality
The comfort that's exuded by the hug of an ultra comfy bathrobe in large part has to do with the materials used in its composition and the way the robe is manufactured. It takes years before a manufacturer can perfect the way a durable garment is produced.
That is why it's crucial to make sure you're ordering from an experienced manufacturer when you're choosing luxury robes for your hotel. With about two decades of experience in the bathrobe manufacturing business, Boca Terry has taken full control of designing and manufacturing each wholesale bathrobe and spa accessory product.
Made in our factories in China, not one bathrobe leaves the door of our plants without being thoroughly checked for meeting our quality standards. Boca Terry's experience in the industry has allowed for refining the manufacturing process and using tools like intense research on the best materials and discerning which to use in production.
Along with using top-notch fabrics and manufacturing processes, Boca Terry is also renowned for putting it all together in a unique and innovative design. We're always enhancing our product lines to meet the high standards of the hospitality industry. Rigorous sample making and lab testing procedures stand behind creating a valuable product.
Affordable Pricing and Timely Deliveries
Competitive pricing doesn't have to come at a cost. Since Boca Terry has an established relationship with fabric suppliers, we have had the opportunity to get the best materials at competitive pricing.
Customers can enjoy top-of-the-line products that don't include the involvement of any middlemen. Due to our direct relationship with factories, we've been able to guarantee the delivery of competitively priced quality products without customers having to pay additional costs.
Along with the above, our guaranteed distribution of wholesale cotton products on a global scale is actually one of our chief specialties. Our distribution centers can ship our items to anywhere in the world.  Boca Terry products are always delivered in a timely manner and in the quality our customers deserve.
A Range of Alternatives
At Boca Terry, we believe that all of our clients should have the chance to choose from a varied assortment to make sure that each preference can be catered to. That's why we carry a large variety of luxe bathrobes that come in different fabrics, from cotton terry and velour to microfiber and satin.
No matter which choice you go with, durability and quality are never compromised. Our wholesale bathrobes are all equipped with accents that ooze practicality. Your guests can store their belongings and keep them near them no matter where they are, thanks to the generous pockets boasted on the front of the robes.
In addition, our bathrobes come with double-belt loops so that your guests can adjust the belt height to their liking. The one-size-fits-all nature of our bathrobes makes it easy to flatter any silhouette, and some of our models also come in plus sizes.
Our robes can be easily folded or hung with the hanger loop stitched on the upper top of the back of each bathrobe. Your guests can also roll up the cozy cuffs or collar of the bathrobes to fit their comfort levels.  Some of our most popular wholesale bathrobes include:
Basic Kimono– Inspired from Japanese heritage, this basic kimono features sleek lines and lighter material along the collar and sleeves that ease maneuvering around. It's available in terry or velour.
Classic Shawl Collar- Also available in terry and velour variations, this plush robe offers a more traditional appeal. Its absorbent nature makes it perfect for drying off after the shower or after a swim in your hotel pool.
Hooded Bathrobe- Your guests can keep warm any time of the year with this extra cozy bathrobe featuring a generous hood to throw over your head for cover. Multi-needle stitching is boasted along the front, cuffs and pockets.
Microfiber Bathrobe- French terry knit lining adds a royal trace on this multifaceted robe, which is available in several hues. This casual, yet classy garment can fit the taste of guests of all ages, and it's increasingly becoming the trend for top-tier hotels, worldwide.
Microterry Bathrobe- You can't go wrong with a terry robe made for making those staying at your hotel feel like they're always at the spa. The wrinkle resistant fabric is easy to maintain and elegant to the look and touch.

Environmentally Friendly Options
Along with several other styles in addition to the aforementioned, you can also find eco-friendly options at Boca Terry. The modish styles are made of materials that weren't cultivated with the use of pesticides or other harsh chemicals.
Organic bathrobes are ideal for guests with allergies or skin conditions, as they offer the same feel of comfort without exposing them to fabrics that might irritate them. Our organic line includes:
Organic Basic Kimono
Organic Lightweight Waffles
Organic Classic Shawl Collar

The Authority to Customize
Nothing screams brand recognition like a personalized hotel bathrobe. Every high-end hotel is known for having a signature emblem that can be recognized by guests instantly. At Boca Terry, you can customize your bathrobe order with unique prints or custom designs.
Our skilled design team can bring your vision to life. We offer custom embroidery on all of our wholesale bathrobe and spa accessory products. You can embellish your order with intricately stitched emblems, logos, and monograms that emit a radiant texture.
Ready for All of Your Bathrobe Needs
Boca Terry takes pride in never settling for mediocrity. As proclaimed perfectionists, we always make sure that our clients get what they're looking for. For more information on our products and services, contact us today and we'll be more than happy to assist you with finding the right lavish bathrobe for your hotel.
Share this item with friends