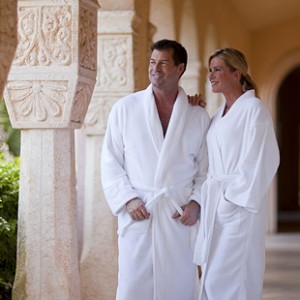 What if scientists had the ability to forge a new, improved, multi-faceted material that was universally versatile while still being soft and luxurious? It seems too good to be true, but this feat has been accomplished. Cotton, it has been nice getting to know you, but your arch nemesis, microfiber, drives a very compelling campaign.
Versatility
Microfiber is seen everywhere today. From furniture to clothing to cleaning supplies, microfiber seems to be all around us! What is it about this material that enables it to be so popular and adaptable? Let's find out a little bit more about the all-encompassing microfiber.
All About Microfiber
Microfiber is relatively new in today's world of fabrics. It is a synthetic fabric, and it is often created from polyester. According to the University of Washington, "The fiber is split many times smaller than a human hair" (UW). This enables the strand to be incredibly fine, plush, fluffy, and soft. With all of these great assets, it is no wonder why this material is popular.
Meet Everyone's Needs
Microfiber is soft enough for a delicate woman's skin while strong and durable enough for a man. Every single guest will be enthralled to experience a microfiber robe; it is what dreams are made of. We chose to create microfiber robes because the material has several benefits.
It is Luxurious
As described, microfiber is incredibly soft and fluffy. This material looks very elegant and high-class due to the immensity of how plush it is. It is safe to say that microfiber is the epitome of luxury. Soft, yet strong and plush but never too heavy, microfiber will leave you feeling light as air.
Nothing to Sneeze At
Are you often struck with allergies and skin sensitivities due to toxins in cotton and other materials? Lucky for you, microfiber is hypoallergenic! This material is the perfect choice for anyone that suffers sensitivities to fabrics.
Wash and Go
Microfiber is stain resistant. This means that you will not have to pre-treat stains that guests or clients may accidentally leave on your robes. All that you need to do is wash your robe once and it is good to go!
So Fresh, So Clean
When you are cleaning your robes, you can relish in the peace of mind that comes with knowing they are going to be spotless when they come out of the washer! Not only are they stain resistant, but "Microfiber will not promote bacterial growth" (Moonsoft). Your germophobe visitors will be ecstatic to find your microfiber robes! Guests wearing them will feel so fresh, so clean.
Water, Water, Everywhere
And not a drop on the ground! Microfiber is very absorbent, yet it tends to refrain from dripping. According to the Sustainable Hospitals Project, "The tiny fibers make the fabric very absorbent, so the [material] holds sufficient water . . . yet doesn't drip" (SHP). This is an amazing feat. Think about all of the other materials that soak up a bit of water and then drip everywhere! Paper towels, cotton towels, and other fabrics are no match for thirsty microfiber. In fact, "microfiber will hold 7 times its weight in water and hold it without dripping" (Moonsoft). You can be thankful that your clients will not be leaving trails of water, water, everywhere after a long day at the pool.
Microfiber Madness
Our microfiber robes are the most plush, most luxurious robe you will ever feel. The soft feeling of the material is beyond belief. This will help guests to reach their ultimate Zen and relaxation. Boca Terry is no stranger to providing clients with options.  Out of our several robes, we offer four styles of micro fabric robes.
Micro Chamois Bathrobe
Boca Terry's micro chamois bathrobe is an excellent choice for a microfiber robe. Available in kimono style, or with a shawl collar, this robe encompasses all things classy. This product is extremely durable, and chamois is lightweight yet warm and as soft as flannel.
Microterry Bathrobe
This robe is also available in kimono or shawl collar styles. We do our best to ensure that, no matter what style clients are looking for, they will find something they enjoy. We believe that this robe is ideal for those who value comfort above all else. Our microterry is described as teddy-bear soft. You can tell from the photos just how lavish this material is. Even better in person, this robe is well suited for anyone with a passion for cozy clothing.
Microtec Bathrobe
Smooth against the skin, our microtec robes are plush without any excess bulk. Available in two patterns (mini check or pineapple) and two styles (kimono and shawl collar), this robe has something for everyone. The pineapple material is raised, while the mini check fabric lays flat against the skin. Our pineapple shawl color robes come with color piping, which makes this robe pop out and grab attention! Beautifully made from 100% polyester, these robes are extremely soft.
Microfiber Bathrobe
Ladies and gentlemen, what you have all been waiting for:  the microfiber robe. Guests will sit back and relax in this robe, lined with French terry knit for added comfort. The satin shell gives these robes a beautiful coloring and really catches your eye! The generous pockets leave lots of room for all of visitors' important items so that they do not lose track of them. The roll up collar and cuffs enhance this robe's cozy feeling! Suited for royalty, guests will look regal in our elegant microfiber robe! Available in extended sizes, this robe is perfectly suited for all guests!
Don't See What You Need?
We work with our clients to ensure that we provide what they are looking for. Just ask our clients that needed an organic line of towels, bathrobes, and spa products that were not made from organic cotton. What did we do? We created their entire line from recycled plastic bottles!
Boca Terry, Best Choice
You might have heard about the quality of our robes before, but have you felt one? Have you allowed one to grace your shoulders and loosely hug your waist? How will you ever know what makes us stand out if you don't try? If you are interested in allowing your guests to experience serious comfort, contact us with inquiries about pricing and to order wholesale items, today!
Works Cited
"10 Reasons to Use Microfiber Mopping." Sustainable Hospitals Project. Sustainable Hospitals Project, 19 June 2003. Web. 23 Apr. 2014.
"How to Clean and Care for Microfiber Products." Moonsoft Corp. Moonsoft Corp, n.d. Web. 23 Apr. 2014.
"Microfiber." University of Washington. University of Washington, Nov. 2011. Web. 23 Apr. 2014.
Share this item with friends