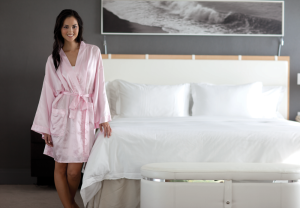 In the world of hospitality, there are so many ways to be unique and stand out among the competition—and of course, it's all about customer satisfaction. When visitors choose your hotel to stay in, it's because they trust that you will be offering the best amenities that will assure they get the pampering they desire.
You can be original with everything from the restaurant menu you offer to your selection of quality bathrobes. Why not change things up and give your guests a stay to remember with pink satin robes?
The Touch of Satin
When most of us think of satin, the first thought to come to mind is something extremely soft and shiny. Satin makes for one of, if not, the most lavish facades in the fabric industry. Originating from the Middle Ages when silk was used to make satin, this lush material was so expensive that only an elite group could afford to wear it.
Over time, satin took on several forms including jacquard weaves as well as a cotton and rayon blend. Even though satin evolved into being namely revered for its luminous effect, regardless of which fabric it's based on, one thing never changed—its everlasting opulent aesthetic.
A Wholesaler That Can Grant Your Wishes
When you're looking for a pink robe of superior quality, you should search for a vendor that can accommodate your needs. At Boca Terry, we only use premium materials in manufacturing our large range of bathrobes composed of a variety of fabrics.
We check every detail associated with a piece of cloth and how it's to be stitched into an embracing garment. After meticulously analyzing it to assure it meets our quality control standards, the fabric is sent to production.
We design each and every one of our bathrobes in a way that fits an assortment of preferences to be sure that you can get the most use out of our products. Since our bathrobes and spa accessories are manufactured in our overseas factories, you won't have to worry about the need for any middlemen. You can get the quality and quantity you need at an affordable price.
A Classic Yet Contemporary Expression
The versatile nature of satin is one of the main reasons that account for it being among the most coveted finishes around. Although it's widely used for formal eveningwear, its use in the manufacturing of bathrobes has grown in scope.
The best part about incorporating it in your hotel is that it can go with a range of interior designs—whether you're on the modern or more traditional side of décor. Satin will effortlessly add the elegant factor to any room.
Easy to Wear
Guests will enjoy having an easy garment to throw on, just as much as they'll love to wear something different. Satin is widely used to line coats, since it allows for easily slipping them on and also taking them off without any trouble.
When used in bathrobes, it's a win-win situation. Your guests can feel the comfort of satin all over, rather than just feeling it in the lining. Satin bathrobes are lightweight, too.
Powerful Composition
Boca Tery's Pink Satin Kimono robe is made of 100% polyester, so it can easily withstand several rigorous washes, as demanded by the hotel industry. Polyester is an extremely potent fabric that's extra durable. It's also resistant to wrinkling, and it won't stretch or shrink when placed in the wash.
Polyester dries really quickly, so your guests can feel comfortable all the time. Staff and visitors alike won't have to worry about dealing with a sensitive fabric. In addition, the satin effect makes for a luxe exterior that can add character to any room.
Practical Accents
The bathrobe's shorter length allows for enhanced flexibility. Your guests can wear it over their loungewear or before or after the shower. The robe has an adjustable waist belt so as to provide guests with the flexibility of being able to alter it to fit their silhouettes.
Additionally, the front of the robe boasts spacious pockets for the wearer to place their personal belongings in and have them at a close proximity. The thickness of the robe's fabric offers enough coverage for privacy, while still keeping a lightweight structure.
Convenient to Match
If you'd like to attend to the preferences of all your guests, you can opt to match the Pink Kimono Satin robe with Boca Terry's Satin Stripe bathrobe. With an exterior of 100% polyester and an 80% cotton and 20% poly soft French terry knit lining, this chic bathrobe is available in both kimono and shawl collar variations.
The Satin Stripe and Pink Kimono Satin robes can both be paired with non-skid slippers, whether open-toe or closed-toe, which you can also find at Boca Terry. To complete your guests' stay with a lasting impression, you can include a range of spa products including headbands or spa wraps.
A Personal Effect
Pink satin robes can be quite easy to use as a unique touch for your hotel, and you can make them even more distinctive with a display of your brand. You can customize your robes with a gorgeously stitched monogram or logo.
A personalized piece of embroidery can enhance the visual of luxury, while simultaneously maintaining your brand identity. If you have a boutique in your hotel to offer guests a chance to take a piece of their stay with them, personalized robes will certainly be the best option.
Contact Boca Terry
Whether you'll be using a pink satin robe for a special event being held in your hotel, or to have in your guests' rooms, you can count on Boca Terry to meet your principles of excellence. Contact us today for more information about our different lines. Our wide assortment of high-end bathrobes and spa products will be sure to fit your hotel décor.
Share this item with friends