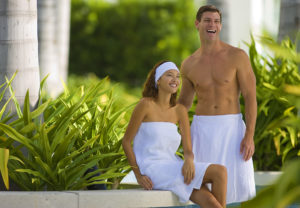 Having the ultimate shower essentials goes beyond installing the right shower door or curtains. If you own a hotel or spa, your focus is mainly geared towards the comfort of your guests, which can be ensured by offering high quality amenities that will most often come into use.
To create an exclusive experience for guests, you should consider keeping products that would make their stay more enjoyable in easy reach. Shower wraps are among those products that can make a huge difference in the comfort level of your guests. They're not only extremely convenient to throw on after a shower, but they're also highly versatile.
Effortless Luxury
At Boca Terry, we've been in the bathrobe and spa product manufacturing business for over twenty years. Our experience has allowed us to choose the best fabrics in the industry to create quality, long lasting designs for various types of settings.
Since we've developed long-standing relationships with the best suppliers, there's no need for any middlemen, which in turn allows for our products to be priced reasonably. Our spa wraps are made with tier-one quality materials to assure an attractive appeal and durable build.
Our spa wraps are smooth to the touch as they are to the eyes. They can be washed with ease, while maintaining their lavish composition, so you won't have to fret having to replace them often. When they're placed in the wash, they won't shrink or stretch, and the fabric won't thicken.
We know that the high sanitary standards of the hospitality industry require regular launderings as among the most significant maintenance practices. That's why Boca Terry has made it a point to use materials that can easily be thrown into the wash while keeping a garment's strong build.
A World of Superior Attributes 
In addition to boasting a resilient and lush form, our wraps foster a range of other benefits including:
Numerous Fabric Types – Boca Terry's Spa Wrap comes in various styles for both men and women. Women's spa wraps are available in Microfiber, Velour, Basic Waffle and Knit Waffle versions, while the men's wraps can be found in Velour and Basic Waffle variations.
Secure Closure – A few snaps is all it takes to create an adjustable fit with Boca Terry's Spa Wrap. The elastic helps with keeping the wrap secure for a snug fit that won't keep guests worrisome about a fallen towel. These wraps allow for easy maneuverability while maintaining their fit, minus the use of a belt or sleeve.
Flattering Coverage – Men can easily secure their wraps at the waist and get comfortable coverage up to the mid-calf. Women's wraps, on the other hand, close over the chest area and offer coverage until below the knee. Both wraps offer a decent amount of privacy for any silhouette.
Versatile Use – Even though shower wraps and spa wraps both denote an environment in which to be used, they can actually be used at more than just the shower or spa. Guests can easily wear the wraps to lounge around in their rooms or they can use them to replace a beach/pool towel.
Seasonal Must – Wraps can be used throughout the year. Whether your establishment is set in an area dominated by a cooler climate or a warmer one, Boca Terry's Spa Wrap is ideal for both indoor and outdoor use. Each wrap also boasts a spacious side pocket for storing personal belongings.
Since our Spa Wrap is available in different sizes, everyone can wear it with ease. Along with our one-size-fits-all, we also offer plus sizes to make sure every body type is accommodated.
Exude Your Brand's Character
In addition to finding a variety of spa wrap options at Boca Terry, you'll be able to customize your order for a more personalized charm. Our skilled designers will work with you to create a design that best reflects your brand identity.
Whether you'd like to add a logo, emblem, or monogram, there are several alternatives to choose from. All of our wholesale spa wraps can be customized with ease. The extra touch will enhance the aesthetic of luxury and increase your brand awareness. If you have a hotel or spa boutique, you can sell the wrap there, too.
Easy-to-Use Nature
Each wrap can be matched with a contemporary or more traditional décor theme, as well as Boca Terry's bathrobe and spa accessories collections. Easily pair the Spa Wrap with our slippers and headband for added functionality and comfort; they can all be customized, as well.
Choose from open-toe and closed-toe non-skid slippers for easy movement. You can protect your guests from slips and falls, too. They'll have to do less packing when they visit when you have such niceties available.
Since Boca Terry's spa wraps are relatively lightweight, too, they're easy to store and transport from one area to another. They're easy to fold and stack, so you can do just so by your hotel pool or spa destination for simplified access.
Contact Boca Terry Today
At Boca Terry, we take pride in being perfectionists in producing distinct products that can enrich any venue. Along with hotels and spas, we work with various industries including fitness and massage centers, cruise lines, and event planners, among numerous others.
In this fast-paced industry, it's an absolute must to stand out among the competition and create a comfortable atmosphere for guests to have a memorable experience. No matter where you're planning on using spa wraps, Boca Terry can cater to a myriad of preferences.
For more information about our products and how to place an order, contact Boca Terry today, and we'll be happy to assist you.
Share this item with friends