With our wide selection of classic, contemporary luxury robes, Boca Terry has been supplying exclusive spas around the world with just the right fit and feel for every setting. Whether it is for lounging in-between treatments or for en-suite enjoyment, our robes are the perfect choice for their comfort, absorption, and beauty.
Promoting Your Brand
With so many years to perfect our business practices, we know what it takes to help promote your brand. As a premier location, you want to make sure that each element in your establishment speaks of your attention to customer care, and a Boca Terry robe is known to speak volumes.
Our Superior Product Line
At Boca Terry, we put a great deal of energy into the research and development of our products. This is why we have insisted from the very beginning on having our own factories, selecting our craftspeople carefully, and keeping an eagle eye on all aspects of production and manufacture. We know we have to be perfect when it comes to every detail, and our quality control ensures the inspection of every robe to guarantee a superior product.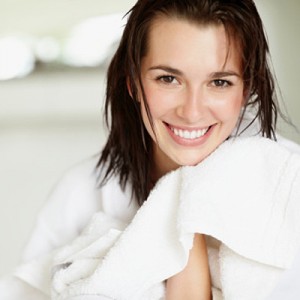 The Advantages of Being Factory Direct
Being a factory direct company also enables us to keep our costs down. We believe that part of our service is enabling our clients to afford a luxurious robe, which is so essential to providing the top quality that your guests expect. Putting Your Spa Front and Center Our exceptional design staff provides yet another feature that helps us serve you better. With their highly trained sense of aesthetics, combined with brilliant branding abilities, they can help create a signature model for your brand that will help to put your spa front and center.
Creating the Perfect Embroidered Logo
Let our designers collaborate with you to create the perfect embroidered logo for your robes, which is the ideal way of letting your guests know they are a special part of your proverbial club. Our wholesale robes for women will look even more exquisite sporting a beautiful design that represents the essence of your spa.
Our Signature Spa Robes for Women
As a spa, you most likely will be ordering several different bathrobe styles to correspond with what you offer. Boca Terry offers many signature spa robes for women, with every one designed for functionality as well as to display an elegant line for every type of body.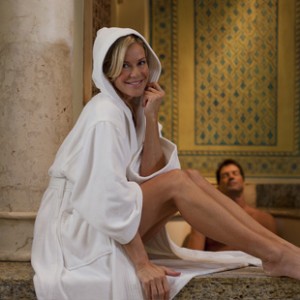 The Terry and the Waffle
Our recommendation is to begin with a classic Terrycloth model for poolside and Jacuzzi, and one of our Waffle styles for your treatment areas. Thick and absorbent, terry is the ideal fabric for wicking away excess moisture and keeping patrons warm and dry. Our Waffle robes feature small squares of fabric that function like miniature clothes to keep emollients working on the skin and providing a cozy feeling that is so conducive to a relaxing spa atmosphere. Keeping Things Natural Because your spa is most likely sensitive to keeping things natural, we recommend our spa robes made with organic fibers that have not been exposed to toxic pesticides or other toxins. These robes are made from balanced, healthful practices that use less energy, which is our contribution to helping foster a better environment. The luxurious sensation of a high quality organic cotton robe is like no other, and our hooded Terry robe is the perfect example of a voluptuous, all-encompassing, stylish robe that fits every situation to a T.
The Waffle Weave Line
Our Waffle Weave line also comes in 100% certified organic cotton that helps to keep skin soft and supple. Our elegant design makes a beautiful silhouette, whether you order our Kimono or our classic shawl collar model.Try the Basic Kimono Waffle made with 100% cotton or 67% cotton and 33% polyester. Add an optional color piping to fit in with your spa colors, along with your logo and you have a robe that is special and appealing. Another option is our Knit Waffle in Kimono or Shawl Collar design made of 45% extra soft modal fibers, 45% cotton, and 10% polyester. Our classic Shawl style is created with our unique multi-needle stitching around the cuffs and collar. With its deep pockets, this is a great robe for keeping cozy, no matter where your guests prefer to roam.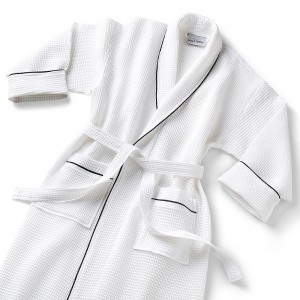 The Microfiber, Microterry, and Microtec
Other Boca Terry choices include our Microfiber robe, with its gorgeous French terry lining, and our Microterry and Microtec lines, which are ideal for warm weather settings.  Choose one, or a few, or order the gamut, and you will have a special line of spa robes for women that everyone will want to take home.
Your In-House or Online Boutique
And speaking of taking robes home, if you do have an in-house or online boutique, there is no better way of reinforcing your brand than by offering your guests a chance to buy a unique robe that represents your spa. A perfect reminder of their time with you, this robe will last a lifetime for its durability and classic styling.
Great Customer Service
We love the hospitality business, and for this reason we believe in giving great customer service.  If you have a question, we will answer it, and if we don't know the answer off the top of our heads, we will find it. Our mission is to provide you with the best, whether it is in the form of advice or in the details of our product line.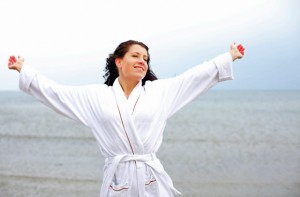 Evolving Production Methods and Attention to Beautiful Design
At Boca Terry, we care about what we do. We know that our stamp contributes to your reputation and we accept this responsibility with open arms. These days it is often said that a spa's reputation is built not only on its great services, but also on the quality of its robes and towels. Our mission is to provide you with the best through our constantly evolving production methods and our lasting attention to beautiful design.
Contact Us
For more information on wholesale spa robes for women, as well as the rest of our impeccable Boca Terry line, please contact us today using our online form or by calling (877) 421-6001.
Share this item with friends